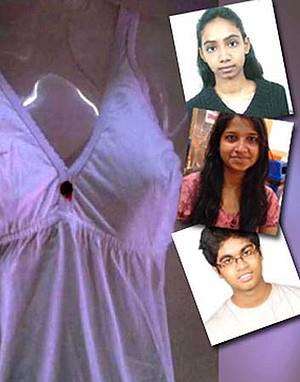 Mr. Jon Sowotoum, a social worker at Tema met Ms. Abena Nhyiaso, a student nurse at a wedding and they became friends. After communicating for a week via phone calls, WHATAPP and Facebook, Abena accepted the invitation of Jon for a visit. When Abena visited Jon at his residence at Mile 7, she was struck by the beauty of Jon's abode. She was offered a choice of Red Bull, Malta Guinness, Cranberry Apple Cider and Star beer for welcome. She chose the Apple Cider and the beer by making her own cocktail. Unknown to Abena, Jon had his own diabolic plans in waiting. As soon as Abena excused herself to use the restroom, the sinister thoughts in Jon's mind was put into action. He put what the Ghanaian teens call "blue blue" in Abena's cocktail. Unknown to her, on her return she drank the drugged drink which made her to feel weak and dizzy: Jon started touching her in an inappropriate manner and Abena tried to make him stop but Jon persisted. Even though Abena was weak she gathered the little energy in her to resist the illegal romantic approach from him. As a strong man, Jon overpowered Abena and to cut long story short, raped her.
Abena felt violated and so narrated the incident to her friend, Efua Kessewaa the next day and asked her opinion about her plans to report Jon's behavior to the police. Efua advised against that with the explanation that, she would be at the ridicule of the community and people would point fingers at her.
CAN YOU MAKE CONNECTION TO THIS FICTITIOUS STORY? DO YOU KNOW HOW MANY LADIES HAVE SUFFERED SIMILAR FATES AND WERE NOT ABLE TO SHARE THEIR SORRY EXPERIENCE WITH ANYBODY? GOT NO JUSTICE AND EVEN SUFFERED MANY HEALTH RISKS?
Statistics on Domestic Violence from a research conducted by the Ark Foundation, a Ghanaian NGO has the following figures:
8% of women reported having been raped. 21% of women reported having been forced by husbands to have sex.
95% of these women did not report the incident. 6% reported having been defiled (of which 78% were defiled by a close relative, acquaintance or authority figure).
Are our women safe ? Is the society protecting our women?
In discussing the rape issue in Ghana brings an interesting dimension to it from a story culled from the EuroNews, and Digital Trends about the development of anti-rape underwear in India: What do you take of such an invention and should it be mass produced? Would that ameliorate the rape cases? Would such underwear be helpful in Ghana?
PREKESE GHANAMEDIA THE INDIAN STORY The gang rape and death of a medical student on a bus in New Delhi sparked outrage across India and highlighted the growing number of crimes against women in the country. In response three students from Chennai have developed anti-rape underwear, which delivers a 3,880 kilovolt shock to any potential attacker. The students claim that the garment will not only protect women, but dish out on the spot punishment to molesters.
Engineering student Rimpi Tripathi helped develop the underwear::
"People are coming up with the question: 'What happens if the girl herself gets electrocuted?', So I want to say that it is not possible because we have developed an insulating layer to protect the wearer."
The young engineers have been in contact with investors in an attempt to get the underwear on the production line. In the current climate in India it could prove popular, as one female student explains:
"These days it is getting very difficult for girls to move around, it is very unsafe for them actually, especially in Chennai, on the local trains and buses, it is actually very tough for us to move around. So, this innovation is very helpful for all of us."
Successive Indian governments have been accused of not doing enough to protect women form violence and sex crimes.
CREDIT: EURONEWS DIGITAL TRENDS