A tale of extraordinary witch-hunting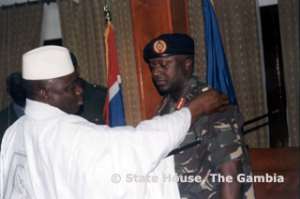 Last Friday another treason charges were brought upon former ally and close confidant of President Yahya Jammeh, the embattled former head of Gambian military, Lt. General Lang Tombong Tamba.
Tamba's case is a classic example of a 'hero' turned villain. But this is not uncommon in Gambia, since Yahya Jammeh came to power in 1994, in what is referred to as a 'bloodless coup.' It ended over three decades of Sir Dawda Jawara's, some say, 'corrupt', but democratically elected government.
A former lieutenant, Jammeh has fallen out with all his former colleagues in the army who helped brought him to power. They were either accused of involvement in some alleged coup or they were dismissed for some unexplained reasons. The latter is also a typical trademark of his government not only in the case of the military.
Lt. General Tamba was not among those who helped Yahya Jammeh came to power, but he is largely responsible for his stay on the 'throne' up to this day. He is almost equally hated as he is loved by Gambians. Those who are well clued-up in his military career say he is the personification of the adage, 'Cold Water, Man Killer'. It is a very popular saying in this part of the world. Hard-hitting opponents of the Yahya Jammeh regime would never forgive Tamba for foiling a coup that they say would have saved the country from the current troubles it is going through under President Jammeh.
And for his supporters, or at least those who supported him when he was in the good books of the president, the General was simply a 'patriot'. He has the record of being the most decorated military figure in Gambian history, thanks to Yahya Jammeh.
"For the Armed Forces, patriotic individuals would be first considered," Jammeh stated, last July, as he decorated 75 newly promoted officers in the armed forces, among them Major General Tamba who had just been promoted to the rank of Lieutenant General.
Rise and fall of the General
Tamba rose to fame in the wake of the alleged 2006 foiled coup, one of countless coups announced since 1994. It was allegedly staged by a now exiled former colonel, Ndure Cham. He was the immediate boss of Tamba. President Yahya Jammeh cut short a trip to nearby Mauritania, returning to Banjul under cover of darkness after the coup attempt was announced. In fact, according to some accounts, it took a meticulous reassurance from Tamba to convince an already demoralized Yahya Jammeh who was now contemplating his post coup d'état move.
Notwithstanding the seriousness of that moment, it gave Gambians a side of a man whose passion for toughness had awestruck the whole nation. He would get anything he asked for; for he was supposed to be correct in whatever stance he took 'on behalf of Gambians'. People criticize but not openly or they risk been banished in the most bizarre of manners.
But the real hero of the day, as Gambians were later made to believe, was Lang Tombong Tamba, then a Lieutenant Colonel in the army. As second in command at the time, he was immediately promoted head of the army and would later enjoy considerable influence as the most trusted ally of the president. Such a status comes with considerable influence and the General really made use of it.
Last October, however, President Yahya Jammeh surprised the entire country when he sacked Tamba, then an extreme military celebrity figure.
As much as Tamba's dismissal shocked many Gambians, many others saw it coming. At the time, only the president outshined him at public occasions. And like the president, he had a convoy which obstructed traffic whenever he was on the move. And Tamba also splashed money at public functions; a hallmark of Yahya Jammeh himself and his close allies.
The General's predecessors as Jammeh's close confidants tried it and sank the same way. There was the highly feared Baba Jobe, a one time Charles Tailor and Colonel Kaddafi ally whose expertise Yahya Jammeh employed to terrorize openly defiant opponents of his government. When he surpassed his limit of celebrity status, Jobe was accused of financial crimes and sentenced to nine years in prison. There is also Daba Marena. He was head of the feared National Intelligence Agency (NIA) at the time of the alleged 2006 coup. In fact, Marena was with President Yahya Jammeh in Mauritania. And despite his alleged involvement in the failed 'coup', he returned home with the presidential entourage. He and a group of other people suspected of involvement in that 'coup' were apparently murdered in cold blood. The government's version of that incident: 'The vehicle carrying them was involved in an accident, it somersaulted and the suspects escaped.'
However, from the time of their alleged escape in 2006, up to this day, families of the alleged escaped prisoners are still waiting to get their first calls confirming that they are indeed alive. But after almost five years now, it is almost certain that they never will.
There are many of this kind of stories surrounding former close aides of Yahya Jammeh who disappeared in some mysterious circumstances.
Reason for Tamba's down fall
Remarks by Yahya Jammeh, following Tamba's sacking in October 2009, prompted strong speculations of corruption allegations. That again was not unusual. Yahya Jammeh has a penchant for implied reasons for controversial decisions he takes. In the process, sacked officials, some of whom have been known to be highly respectable individuals in society, have had their reputation stained indelibly.
Jammeh has succeeded in convincing a greater section of Gambians that he is the most patriotic Gambian ever with the best intention for the country. He would only imply corruption and unpatriotic stance on sacking officials; but Gambians would never know the reasons behind his endless sackings.
In the case of Tamba, a few weeks after his unceremonious removal, he was detained alongside a number of other senior figures both in the military and police. Shortly after, it emerged that the government had initiated an investigation about an alleged coup attempt involving him and the same man whose coup he supposedly foiled back in 2006, Col Ndure Cham. However, up until this time, the government never came up with any official statement as to its reason for Tamba's detention. Not until five months later, when it finally announced it was charging the former army chief for involvement in a plot to over through it earlier in the year. Tamba vehemently denies this.
Prosecution evidences coupled with largely unconvincing witnesses' statement (most of whom have questionable characters by all account) arouse serious doubts about the authenticity of the reported coup. Prosecution witnesses ranged from well known drug dealers imported from Guinea Bissau to an estranged nephew of the former army chief.
Besides, you did not need to be a constitutional expert to see through the flimsy nature of the '2009 coup' story, and apparently even the government itself is acquiescent with this fact now, hence the latest development. It just confirms what experience has taught us, Gambians; that Yahya Jammeh will never strike at his opponents and fail. Never!
Tamba accused of involvement in 2006 coup?
The justice department, last Friday, announced that Lt. General Tamba was been charged alongside former navy chief, Sarjo Fofona, also detained at the same time as Tamba, for involvement in the 2006 coup. Prosecution statement said they "refused or neglected to report to the appropriate authorities within a reasonable period of time," prior to the unveiling of the 2006 'coup'. It added in another count that the duo "did not take reasonable and necessary steps to prevent the occurrence of the offense." Yet the offence never took place and Gambians were told Tamba foiled it.
"Every Gambian knows how I foiled that coup," Tamba said last May, as he answered to a question during his cross examination in the on going trial for his involvement in the alleged 2009 coup.
"I was here in The Gambia and the President was in the Islamic Republic of Mauritania, and my ambition was to foil the coup. My ambition is not to become a President," he told the High Court in Banjul.
Tamba fell short of saying he had all the opportunity to remove the president, but he did not; and why would he do it now?
For the former naval head, Sarjo Fofana, the government apparently had no explicable reason for his detention. So the 2006 'coup' would be a perfect excuse for his continued detention. Fofana famously presided over the ensuing military tribunal which prosecuted and jailed the suspects of the 2006 'coup'. And now, sources say those jailed coup suspects have been lined up to testify as witnesses against him and the ex-army chief.
For witnesses under the custody of the Gambian government, prosecutors are almost sure to get the testimonies they are looking for to hang their newly found suspects.
However, the questions remain, how comes these men did not figure out the involvement of the former navy chief when he presided over their trial and subsequent sentencing? How comes they did not mention the involvement of the former military chief who allegedly betrayed them? Why would the government only come up with stories about the 2006 'coup' when it only becomes more than clear that they had failed to put up reasonable arguments over the highly unsubstantiated 2009 'coup' story?
Gambians would surely want these answered.