Pickpocketing – The Christmas Nuisance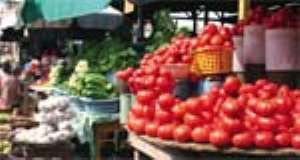 AT THIS time of the year, there is an intensity of commercial activities as people prepare for Christmas. This is the period when many traders fall victim to the temptation of overworking themselves to maximize their incomes whilst their consumer counterparts furnish their homes with their wares. However, it is also during this period that the rate of pilfering increases.
So as Market Watch (MW) wishes its cherished readers a Merry Christmas and a prosperous and Happy New Year, it also finds it prudent to advise them to be very cautious and "watch their backs" as they go about making provisions for these festive days.
As part of its usual window-shopping of the nation's markets with its readers, MW is making a stopover at the Makola Market to interact with the traders to ascertain how the market is faring during this season.
Our first port of call is Melcom, one of the leading supermarkets in the country where I will be speaking to Bala Krishnan, the Branch Manager.
MW: Bala, I guess your shop is jammed? What's happening with this human traffic? I couldn't find it easy entering here.
BK: I wish they all buy something, because as far as I know, the shoplifters are more than the real buyers.
Yes, Christmas and New Year are just at the corner, so this is the kind of crowd one should expect. Even though we witness great crowds during these festivities including Muslim holidays, we do encounter higher shoplifting during these seasons.
MW: So how do you fight this menace?
BK: We tighten security and also ensure that all our sales personnel are alert and watchful of each customer's body language to help fish out our preys.
We have also been putting other security measures in place that enable us to monitor whatever goes on at every corner of the shop.
I wouldn't say all these have completely put a stop to the activities of these robbers.
MW: In spite of this mishap, how have sales fared?
BK: Not so bad, even though people keep complaining there is no money in the system, but so far so good. Market is cool. Maybe it's because Melcom has between 4,000 and 5,000 types of products with different brands.
Because of the occasion, most of the buying is concentrated at the kitchenware, Christmas décor, and electronics.
MW: What about food and beverages?
BK: It's only the sophisticated class of people who patronize this section because the ordinary man thinks food and beverages in big supermarkets are very expensive.
MW: Is there any special treat for your customers this season? And also what do you have to say to them?
BK: Sure, we have special hampers that customers are patronizing at the moment. We also have VIP and Senior citizens' packages, and also packages for frequent buyers.
To enable all our customers enjoy our services, Melcom has also extended its services to the public to 6pm instead of the normal 5pm.
As we wish our cherished customers a Merry Christmas and a Prosperous New Year, we also pray that the bond between Melcom and its customers deepens as the years go by.
Notwithstanding the blistering heat we are experiencing, MW just proceeded to Kantamanto where it will interact with the second hand clothing dealers who have been a reliable source of the clothing of both the ordinary and the affluent man.
Mrs. Margaret Jehu-Appiah, Chairman of Used Clothes Dealers at Kantamanto has the notion that activities at the market over the past three years have been at a standstill.
MJ: Most Ghanaians have shifted their attention to Chinese products which they think are cheaper. They don't care about how inferior those products are. I think Ghanaians have lost taste for quality products.
MW: But your prices for these secondhand clothes are too high.
Don't you think you people exaggerate your prices by factoring all the poverty in your various homes into the pricing of these used clothes? How do you expect me to buy a dress or suit that somebody has already worn for years between GH¢10 and GH¢ 40 (¢100,000 and ¢400,000)?
MJ: It's not about the prices. Most people are moving away from these products because monies are hard to come by these days.
For the past three years, the system has not been stable, and this has affected commercial activities at the market even during Christmas and other festivities.
This is our source of sustenance and we wish things work out well.
A trip to NifSarp Enterprise, also at Makola, produced the same lamentation about business not being lucrative during this season.
Vida Adjei, the shop assistant, says though the streets of the market are jammed with people, it's only a few of them who are actually buying things from the market.
VA: Most of them are here to steal from us. We want our customers to be more careful because this is the bumper season for these thieves.
With Henrietta Abayie