Machado Decisions Raphael Mensah To Retain Title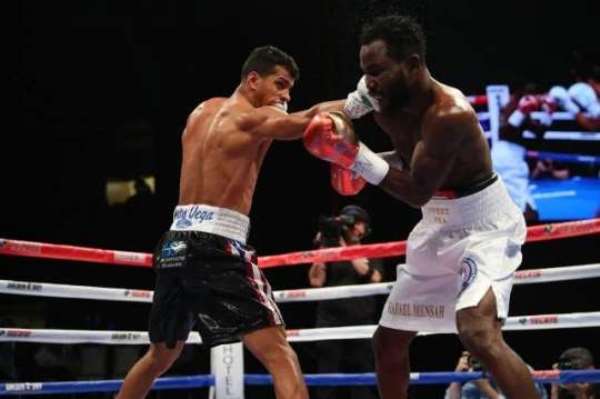 Ghana's Rafael Mensah failed in an attempt to win the World Boxing Authority (WBA) title, as he was handed a 12 round unanimous defeat by Super Featherweight Champion Alberto Machado.
All the three judges had it 120-107.
It was an exchange of the heavy leather at the start of the first round as Machado landed a huge right hook that sent Mensah down.
He was badly hurt, but the round was already over and Mensah able to recover by the start of the second round.
Though he recovered, he was still out-punched by the bigger and stronger Machado, whose dominance remained in the third and fourth round, with Mensah having no answers to deal with the height and reach of the champion.
Machado worked him over in the fourth round as they traded punches on the inside and Mensah was once again badly hurt as Machado hit him with a number of hard shots in the closing seconds
At the start of the fifth, Machado went right after Mensah and was looking for the finish.
He subjected Mensah to a lot of punishments and this slowed down his pace in the sixth, with Machado taking total control.
Machado delivered more hurtful punches in the ninth, while Mensah was defensive and same was exhibited in the tenth and eleventh, with Machado controlling the majority of the action from start to finish.
Mensah did a little more work in the twelfth, which was mainly in part to Machado being tired.
Machado landed 234 of 780 (30%) total punches and 170 of 392 (43%) of his power shots, compared to just 90 of 441 (20%) total punches from Mensah and 59 of 277 (21%) power shots from the Ghanaian.
Machado, now stands 20-0, 16 KOs, whilst the previously undefeated mandatory challenger Rafael Mensah now stands at 31-1, 23 KOs.