Kenichi Yatsuhashi: Coach leaves Hearts a proud man after passing first pro test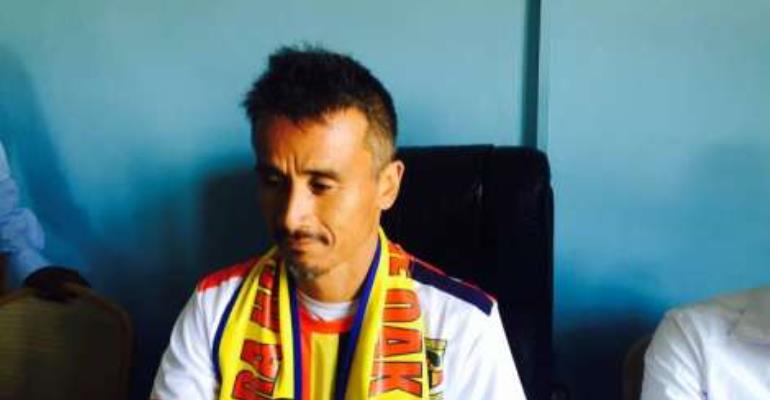 Outgoing Accra Hearts of Oak coach Kenichi Yatsuhashi has says he is leaving Accra Hearts of Oak with great memories even though he is 'bitter' he has not seen through his project.
The Japanese parted ways with the Phobians earlier on Monday after telling the club he needs 25 days off to attend a UEFA Pro Licence course.
He says he gave Hearts the option of leaving his assistants Yaw Preko and Nassamu Yakubu in charge or replacing him and the club took the later.
'That is correct. We have seperated by mutual consent', he said. 'I wish I  could stay and I really wanted to stay. I told the MD I had a prior commitment in July 2016 but he just said ok because by that time the league would be over but it delayed. I cannot change what I had committted to already but also didnt want to put hearts in a bad situation. I wish I could stay. I have two great assistant coaches who in my opinion could fill the spot while i was away. The other option was for the club to replace me now and they took that.'
Yatsuhashi has had persistent problems with the Hearts hierachy and survived several attempts to sack him. In that sense, his departure is no surprise but he is adamant this was out of the hands of both parties.
'I respect the club's decision. The fact is that I wont be here for twenty five days or five games and that is something the club has no control over. Someone said only twenty five days and five games. Someone also said that is too much. I have to respect that.  There are two sides to it', the Japanese said.
He also denies many of the stories that dogged his time in charge of Hearts of Oak including the ones about his temper and tantrums at meetings.
'Majority are just false accusations and baseless rumours. I walked out of a meeting once in the first week in April.  That is a fact. Other than that I never walked out again, never broke furniture and never slammed a door. Those accusations are false. I respect everyone as much as they respect', he claimed.
Yatsuhashi won eight games in all competitions in charge of Hearts of Oak, drew five and lost three. He was unbeaten away from home in charge of Hearts and says he is leaving the club with great memories.
He said: 'I am leaving with a  lot of memories but I like to stay with the positives. The supporters have been fantastic. They have been great. The club that won the continental championship have not won anything since 2009. We have been great. I dont know if we would won it but we were surely on our way to go back to where this club was before. Everywhere we went the club's fans were there. People were just very friendly and just supported me.
'The players were outstanding. The quality of our players may not the best. But we were the best as far as effort and teamwork was concerned that is why we were top for so long and that is why we are only two points off the top but we are overachieving for the talent we have. We deserve it for the hardwork that we have put in and for all those fantastic games.
'I have had two outstanding assistant coaches in Nassamu and Preko. Without them we would not have finished where we finished.'
Yatsuhashi's arrival in Ghana was greeted with great scepticism and downright condemnation  given that he had coached a professional outfit before. He hopes now that he has proved a few people wrong.
Criticisms I received when I arrived here were fair in my opinion. I never had the experience of coaching any side at a professional level so it was fair criticism. I think I proved many of them wrong but I cannot deny that I have a lot more to prove. I am bitter that I cannot do that this is not something I cannot control.