AMA Moves To Eliminate 'Lavender Hill'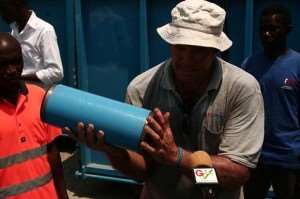 Road users and residents around the Accra Beach Road would be happy to see the final closure of the popular 'Lavender Hill' that produces a horrible stench at all times.
The Accra Metropolitan Assembly (AMA), as part of its efforts to improve the sanitation condition in Accra, has embarked on the construction of a scientific liquid waste recycle plant that would replace 'Lavender Hill' by the end of June this year.
The Accra Mayor, Dr. Alfred Nii Okoe Vanderpuije, gave the assurance that 'Lavender Hill', when eliminated, would bring comfort to nearby residents, since the new plant is a scientific liquid waste facility with six anaerobic digesters to treat waste into organic material and bio-fuel for further use.
'I am here to promise the people of Accra that by June this year, we will eliminate Lavender Hill,' he announced.
The AMA boss made this known during a working visit to some developmental projects being undertaken by the assembly on Monday.
According to him, the liquid waste recycling plant was a joint project by the AMA and Zoomlion Ghana Limited to bring a cleaner environment to the people, especially at the beaches.
He also announced that work at the Legon treatment plant, which is currently under construction, is expected be completed in March this year.
After the completion of the project, it would serve the University of Ghana, Presbyterian Boys School (PRESEC), the Institute of Professional Studies (IPS), and in future, include Haatso, East and West Legon, Okponglo and Madina.
The Mayor added that the assembly's goal was to open two more of the facilities to effectively take care of the city's waste management needs.
The Chief Executive of Slamson Ghana Limited, contractors of the Lavender Hill waste recycling plant, Mr. Fredrik Sunesson, indicated that the plant can take as much as 200 trucks a day, and would use five days to recycle the waste into by-products.
Mr. Sunesson added that the plant was cost effective, since it uses a maximum of two gallons of diesel a day, and would have great impact on the environment, as water produced in the process is 90 per cent clean.
The Mayor then visited the Korle-Bu and Korle-gono public places of convenience to inspect their conditions, since they were constructed not too long ago.
During the visit, he made it known that the assembly had been able to eliminate over 7,000 pan latrines in the city, and that by the end of December 2013, the remaining 700 would be dealt with.
http://ghanaian-chronicle.com/wp-content/uploads/2013/03/the-recycle-waste-plant-that-will-re-place-lavender-hill.jpg