GHANA, Accra - January 15, 2013 – Samsung, an official sponsor of the Orange Africa Cup of Nations, SOUTH AFRICA 2013, has launched its 'Samsung Fan Zone' in seven African countries. Under the theme, 'Our Passion Powers Africa', the company aims to bring the spirit of the games to fans across the continent.
Samsung Fan Zones are at the core of the company's fan engagement program this year. In addition to South Africa there will be Fan Zones in Angola, Ivory Coast, DRC, Ghana, Nigeria, and Zambia. Samsung will leverage its 20 brand stores and 8 shopping malls for more fans to experience interactive activities that will allow them to share their passion for African football.
Inside the Samsung Fan Zone, football fans can show their passion towards their team and players by taking photos and sending them directly to the Samsung Africa SNS site which will become part of the Samsung Ambassador mosaic. They can also write supportive messages for their favourite teams on the smart spirit wall.
Samsung's product displays will allow fans to interactively play football through SMART TV and stay in touch with what's happening during Orange Africa Cup of Nations, SOUTH AFRIA 2013 with the latest Samsung mobile products.
Through these new engagement platforms, Samsung aims to establish 'Passion', a different football 'Experience' and a sense of 'Fan Collaboration'.
Mr.Vishwas Saxena, Business Leader for Exports in Samsung Ghana reiterated Samsung Ghana's commitment to fuelling the passion that underpins soccer in Ghana. "We believe that one key element to the success of any great team, apart from team work, is the support and encouragement the fans give to the team. We know the passions of our supporters and this is what we are here to – to fuel the passion of millions of Ghanaian fans to cheer the Black Stars on in their bid to bring the Cup home. That is our ultimate goal and we believe it is achievable". He added that "Once we have been able to spur the supporters on, the players will have the bigger support to deliver on our expectations. So share your passion in the Samsung Fan Zone and cheer the Black Stars on to victory."
Through various platforms such as in-stadium activities, music, and digital engagement platform., Samsung plans to engage a wider audience and collaborative involvement. Understanding the passion that music provokes across the continent, Samsung has also recently collaborated with one of Africa's most popular artists, Don Jazzy, to produce the 'Samsung Football Anthem'. Football fans can sing the song during Fan Zone events and hear it on the radio and during Samsung TV advertisements.
In an attempt to bring the games closer to fans outside the actual stadiums, Samsung will activate 'Mobile Fan Zones'. These interactive sites will tour the surrounding areas whereby the matches are taking place. Fans will receive giveaways and the chance to experience Samsung's latest smart technology products.
Samsung will also leverage its own digital medium, 'Samsung Africa Facebook', whereby fans can participate online in the same events that are happening in Fan Zones. Samsung will supply a special app for people to upload their photos and participate in competitions which will be on Samsung's AFCON Faceboook page (https://apps.facebook.com/samsung_afcon/)
"We are committed to Africa and believe in the vast potential across the continent. Samsung is honoured to have the opportunity to engage our brand and innovative technology during such a prestigious event. Through unique platforms, we hope to bring new and memorable experiences for fans to participate in the games" said Mr. Yung-Kook Lee, Vice President and Head of Global Sports Marketing at Samsung.
For any additional questions or to speak to a Samsung representative please contact:
Ji-Kyung (Claire) Kim
Samsung Electronics Co., Ltd.
+82 (0) 31 277 8029
[email protected]
Jill Hamilton
Weber Shandwick South Africa
+ 27 (0) 11 566 6316
[email protected]
About Samsung Electronics Co., Ltd.
Samsung Electronics Co., Ltd. is a global leader in consumer electronics and the core components that go into them. Through relentless innovation and discovery, we are transforming the worlds of televisions, smartphones, personal computers, printers, cameras, home appliances, medical devices, semiconductors and LED solutions. We employ 227,000 people across 75 countries with annual sales exceeding US$143 billion. Our goal is opening new possibilities for people everywhere. To discover more, please visit www.samsung.com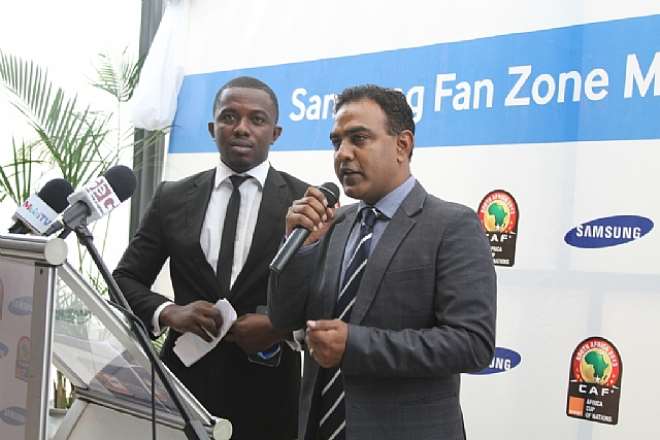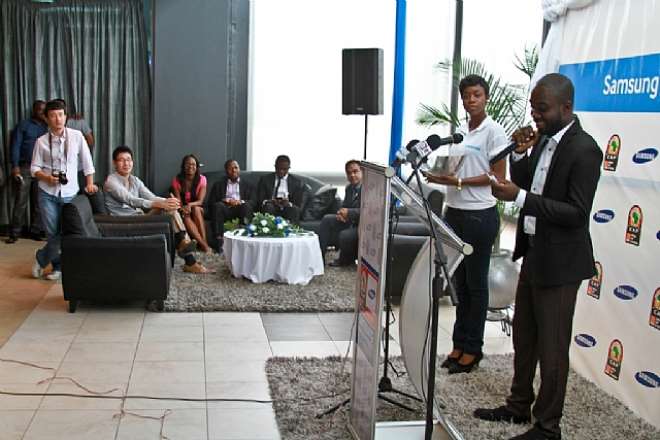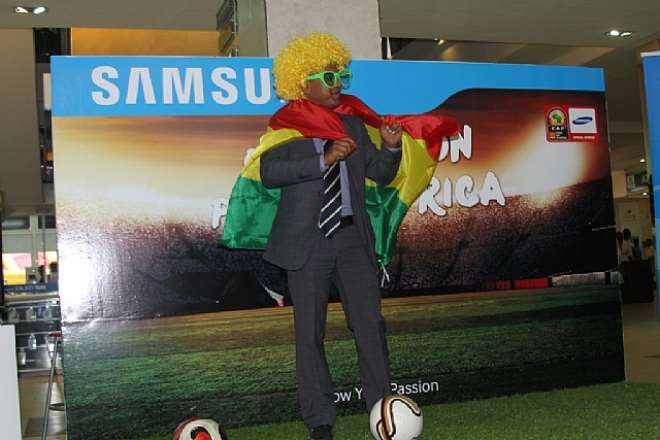 MR.VISHWAS SAXENA, BUSINESS LEADER FOR EXPORTS IN SAMSUNG GHANA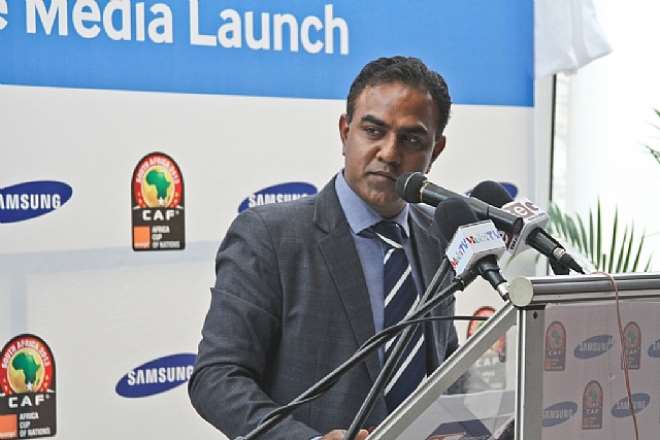 MR.VISHWAS SAXENA, BUSINESS LEADER FOR EXPORTS, SAMSUNG GHANA, BRIEFING THE MEDIA DURING THE SAMSUNG FAN ZONE MEDIA LAUNCH