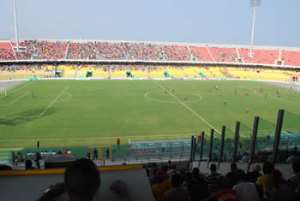 The Ohene Djan Stadium
Officials of the Ghana Football Association have confirmed the Baba Yara Stadium in Kumasi as venue for the Black Stars next month Africa Cup of Nations qualifier against Sudan after learning the OheneDjan stadium is not fit to host the game.
The Black Stars were hoping to play their first game in Accra after the World Cup but damages to the floodlights at the venue means fans will not see the team play here in a while.
The Sports Council has told Joy Sports components for the floodlights have been damaged and require repairs.
The Spokesperson for the Council, Hamid Issaka said failed attempts had been made to repair the malfunctioning floodlights at the Ohene Djan Sports Stadium to pave the way for the match to be played there.
He said while the match will be played in Kumasi, the floodlights in the Ohene Djan Stadium will be immediately repaired to prepare it for future matches.