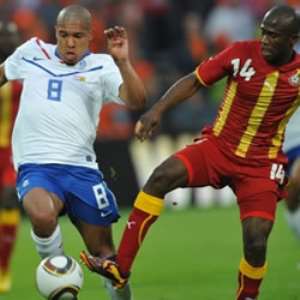 Despite Ghana's 2010 World Cup campaign ending in the quarter-finals when they lost to Uruguay on penalties, the performances of the Black Stars continue to be celebrated by many.
Ghana, who were the best of six African representatives were the only side from the continent to go past the group stage as the Black Stars reached a historic last-eight place in their second successive appearance at the World Cup.
Matthew Amoah, one of the 23 squad members picked by Milovan Rajevac says Ghana's performance in South Africa was something special to be part of.
"I'm very proud with what we achieved in South Africa," said Amoah to Dutch newspaper BN/De Stem.
"We've made a lot of people very happy by reaching the quarter-finals. We were received like heroes when we returned to Ghana. That was an amazing experience."