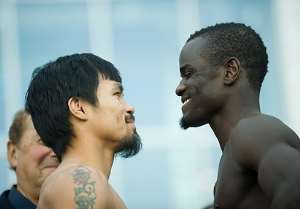 Manny Pacquiao and Joshua Clottey during the weighing

© Copyright myjyonline
Joshua Clottey has partly blamed his defeat to Manny Pacquiao in the WBO welter weight bout on a meal he ate hours before the bout.
Clottey was less than impressive on the night and was hugely overwhelmed by the Philippine who was devastating with his punches from start to finish.
The Ghanaian boxer shortly after his defeat apologized to Ghanaians for failing to dethrone the undisputed welter weight champion but appears to have diagnosed the reason for his defeat.
Speaking to Joy News, the 32 year old Ghanaian boxer said he was not in the right frame of mind after suffering multiple stomach upsets and diarrhea prior to the bout.
He suspected an ingredient used in preparing local Ghanaian dish- Banku and Okro stew he ordered to be prepared for him to eat as possible cause for the diarrhea.
"When I ate after the weighing I was 'running'; the midnight I went to toilet almost like four times; in the morning I went to toilet almost like three times; when we went to the dressing room I went to toilet like three times," he explained.
He said the heavy dose of diarrhea weakened him ahead of the bout and that partly contributed to his defeat.
He has promised to make a swift comeback to glory.
Play the attached audio for excerpts of the interview
Story by Nathan Gadugah/Myjoyonline