Witch Doctor that Helped Defeat Ghana is Paid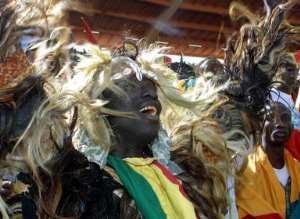 ABIDJAN, -- A decade after Ivory Coast's soccer team swept to its sole African Nations Cup victory, a government minister has finally paid off disgruntled witch doctors who claim to have helped win the trophy.
Witch doctors in a suburb of Ivory Coast's main city Abidjan were enlisted by the minister of sport before the 1992 Cup to give the national side an extra edge.
The Elephants won the final beating Ghana in a dramatic penalty shootout in Senegal but the witch doctors from the village of Akradio grumbled they had not been rewarded -- and promptly put a jinx on the side.
'I'm asking for forgiveness from the village of Akradio for the promises which weren't kept after the 1992 Nations Cup,' Defence and Civil Protection Minister Moise Lida Kouassi said earlier this week after opening a co-operative bank there.
'I'm offering a bottle of liquor and the sum of 1.5 million CFA francs ($2,000) so that the village, through the perceptiveness of its wise men, will continue to help the Republic and, in particular, the minister of sport,' he said.
The West African country has not had much success in the Nations Cup since 1992.
In 2000, the team was packed off to a military camp, forced to frog march and attend lectures on patriotism after failing to get past the first round in Ghana. The team crashed out again in the first round at this year's finals in Mali.