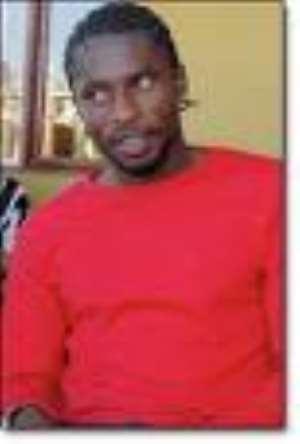 MOSES SAKYI
He is one of the few African players who have commanded more inches and air-time in the Portuguese Press as far as his blistering performance in the Premier league is concerned. Ghana international, Moses Sakyi is not looking back ever since moving to Portugal some four years ago.
After his move from Portuguese second division side, Sporting Olhanense, to first division club CD Estrela Amadora, the 26 year old Ghanaian genius has improved season after season and it comes as no bolt from the blue that some European big guns are believed to be tapping on the heels of the forward.
The 26-year-old is one of the few African players cultured with the Portuguese game. Nurtured at lower division league side Iron Breakers back home in Ghana, he joined Premier League side Liberty Professionals – the mother club of Chelsea's midfield gem Michael Essien.He made his international debut in Ghana's international friendly against neighbors Togo in 2004.
He's had romance with as many as six clubs in Europe before his superlative performance for Sporting Olhanense in the Portuguese second division league catapulted him to Estrala Amadora.
He moved to Turkey in 2002 where he featured prominently for Yozgatspor. İstanbulspor and Kayserispor. CSKA Sofia and Slavia Sofia of Bulgaria are some of his former clubs.
Few Ghanaian players have made as big an impact on the Portuguese Premier League as Moses Sakyi. His career has being full of exciting highs but still managed to fuel a never ending debate about the extent of his ability to succeed on a Portuguese soil.
The first thing that is noticable about Moses Sakyi is his imposing physique. Tall, broad shouldered and with tree trunk thighs he looked every inch the sort of fearsome centre half that is such a staple of our game.
He might have looked a stereotype but nothing could have been further from the truth. His impressive physical presence has made him a fearsome opponent, only not as a destroyer. Moses is a creator and a finisher and his power combined with pace, perfect ball control and arguably his natural dribbling ability makes him at times impossible to stop.
Alongside his pulverising shot, the Ghanaian has the ability for accurate long range passing, excellent in the air and has a devastating body swerve. He is the man who has the game of football running through his veins, a natural born footballer.
He can beat opponents with skill and dazzling tricks, swerving through defences like a skier on a slathom course, or go past them with a burst of devastating speed. Moses Sakyi has the confidence and arrogance to try absolutely anything.
The player is hopeful his performance against North African side Morocco and Asian giant Saudi Arabia in Ghana's double header friendly some weeks ago will earn him more international call-ups with the ultimate aim of making it into Claude Leroy's 22 man dream squad for the African Cup of Nations in 2008.
He is an important figure as more than just a wonderful footballer.
Eyes are monitoring him closely. Who knows he might be the solution to Ghana's scoring problems.