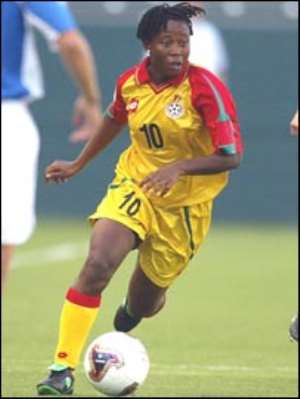 Adjoa BAYOR
Although outwardly shy and reticent, there is nothing withdrawn about the footballing approach of Ghana's Adjoa Bayor.
The former African Women's Footballer of the Year returns to FIFA Women's World Cup action for the third time in her career when Ghana compete at the 2007 finals in China.
The 27-year-old Bayor is among just a handful of Ghanaian women who have been given the opportunity to play outside of the country, and her experience, not only of past FIFA Women's' World Cup tournaments, but also competing in the USA, is expected to be key to Ghana's hopes of an improved showing.
Last year, Bayor signed for big guns FC Indiana in the United States' Women's Premier Soccer League and also has invaluable college circuit experience from a brief spell at Robert Morris College in Illinois.
Bayor's performance for the Black Queens at the last FIFA Women's World Cup USA 2003 helped her to the title of Africa's best player.
It was only the second time a Ghanaian had won the award, Bayor succeeding her team-mate Alberta Sackey, who was crowned in 2002. "I was overjoyed when I heard the news and I later celebrated with my friends," she said at the time.
"I believe it's the work of God. I feel very proud that my efforts have been recognised but it also places an enormous burden of expectation on me when I play for Ghana." Bayor, who has won more than 60 caps for her country, has since been among the three finalists for the annual award on two occasions. Indeed, in both 2004 and 2006 she was one of the forerunners for the prestigious honour.
Going for glory
Bayor may appear shy and retiring off the pitch, but on it she stands out for her bold and brave role. The petite attacking midfielder was vital to Ghana's third successive qualification for women's football's showpiece event, and she is now confident that the West Africans possess the tools to enjoy a successful campaign.
Bayor and Ghana showed a marked improvement at the 2003 finals, where they recorded their first FIFA Women's World Cup finals win with a 2-1 victory over Australia in the group stages. Bayor won the award as the player of the match.
The Black Queens begin their campaign at this year's competition with a repeat meeting with the Matildas in Hangzhou on 12 September, when Bayor and her side will be hoping for another positive start.
Bayor had a valuable foretaste of the conditions when she was picked for the FIFA All-Star game, which marked the draw for the FIFA Women's World Cup in Wuhan in April.
"Playing with world class players gave me the needed exposure to excel at the World Cup in September," she reckons.
Adjoa BAYOR
Shirt number: 10
Position: Midfielder
Club: Ghatel Ladies Accra (GHA)
Date of Birth: 17.05.1979
Height: 163 cm
Weight: 58 kg