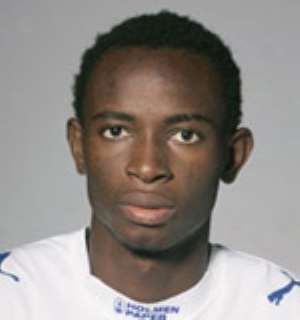 Thousands of talented Ghanaian soccer stars abound all over the world. While some have been discovered and are contributing their quota to the development of football in the country; others are yet to be found.One such talent and rising star is 22 year old Bennard Yao Kumordzi, who plays for Greek Super League side Egaleo FC.
Like many African players, Bennard started his career playing street football at Klagon Youth FC before being snapped up by lower league side Supreme FC, where he had stints in only two 3rd Division league matches in Ghana, before leaving for Sweden to pursue a European career in 2005 in the city of Norrkoping.
Initially, he struggled to get a club of his choice, until he got a break with a Division 6 Amateur Club called Norrkoping in the southeastern part of Sweden, where he played as an attacking midfielder, though he left Ghana as a central defender.

Kumordzi has all the traits a successful footballer needs in his career. With his great dazzling skills and ability to control ball; read the game; give good passes; and shoot from distance, he became the toast of the Swedish press and stakeholders in the soccer fraternity.
He made a big impression while playing in the division 6 amateur league by scoring 17 goals in just 11 matches from the offensive midfield role, making him the leading goal scorer.

In a cup match played in July 2005, between FCN and IA Sleipner (a second Division Club), Bennard performed magnificently well to win the match for his amateur club.
Stefan Hellberg, the then Coach of Swedish Superettan side IFK, who was at the game told journalists that he had just discovered a gem. A gem in the person of Bennard Yao Kumordzi.

Bennard was given a deal to go for trials with his new club and unsurprisingly, he jumped four levels from the sixth Division amateurs to the Swedish 2nd Division - Pros.
It was the first time such a thing had happened to any African player in Sweden. However, his stay there was marked with contractural disputes from his transfer from Division 6 to the Suprettan side IFK. He played in this club for barely a year.

At IFK, his excellent form throughout the season eventually attracted the interest of Greek Super League side Egaleo FC, where he signed a five-year contract with the team.
After just 5 games into the 2006-2007 season, he had secured a first team position playing the offensive midfield role.
He has also received plaudits from the Greek media who says he is the true revelation of the season after a superb goal he scored against Ergotelis FC in a league match.
With just some few matches played in the Greek Super league, his output was recognized by the football ruling body in Greek – Hellenic Football Federation.
Thus, on 18th January 2007, he was awarded the Most Valuable Player of the 1st Half of the 2006/2007 Greek Super League for his outstanding performances in the current season
At the moment he has become one of the "hot cakes" in football. Though he wishes to play for any of the top 20 teams in the world, clubs that are currently seeking his services are German's Bundesliga side Bayer 04 Leverkusen and Greek rivals AEK Athens and Olympiakos.

Though in Ghana much is not known about him until his recent call up into the national team, the Swedish press has described and compared him as the next to famous Nigerian International star Nwakwo Kanu.
In one of the 2005 publications of Folkbladet, a Swedish newspaper, Bennard was compared to Nwakwo Kanu. Certainly, Bennard's physique and style of play can make him the "Kanu" of Ghana.
Today, Bennard thinks his quality on or off-the-ball and height gives him an advantage to be one of the best players of the Ghana national teams especially the Ghana Olympic team – Black Meteors.

Bennard has not had many caps for Ghana, but dreams of finding a permanent position in the team ahead of CAN 2008 to be hosted by Ghana early next year and also to help the black stars qualify for the next world cup in South Africa, 2010.

"I have waited to be called upon to wear the colours of the Ghana Under-23 or Senior national team jersey", said Bennard Kumordzi. "Playing in the World Cup for my country is my biggest dream. I will continue to work hard to make it into the Olympic Team and from there I can move onto the next stage added Bennard.
Bennard was part of the Olympic team that played Burkina Faso in January, this year and also played the two-legged tie of the of the All-African Games qualifying matches against the Young Eagles of Nigeria which Ghana qualified narrowly.
On his 22nd Birthday, Bennard received his first senior call up for the Black Stars, as a direct injury replacement for Ghana captain Stephen Appiah for Ghana's FIFA International friendlies against Austria and Brazil on the 24th and 27th of March 2007.
His international debut was against Brazil on March 27, 2007 against Brazil in Stockholm, Sweden when Ghana lost 0-1.

Certainly the future for Bennard Yao Kumordzi is largely bright. He might become the next "Nwakwo Kanu" of Ghana or the next Stephen Appiah.
Remember Stephen Appiah in his first assignment for the Black Stars, came on as a sub for the great Abedi Ayew Pele. Could we say that Kumordzi's call by Claude Leroy to replace Stephen Appiah is a step in the right direction? Ghana has again been gifted with a star in the making.