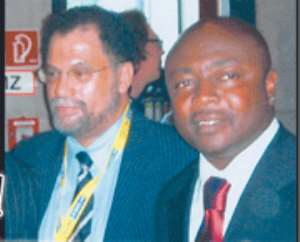 The head of South Africa 2010 World Cup Local Organising Committee (LOC), Mr Danny Jordaan, has stated that Ghanaian soccer legend, Abedi Pele, would remain an ambassador for the 2010 World Cup until the Ghana Football Association (GFA) establishes his guilt for his one-year ban for alleged match-fixing.
A mystified Jordaan says that the GFA must come clear on Abedi's alleged involvement in the scandal as the FA's explanation neither established Abedi's alleged complicity in the case, nor did it assign any concrete reason for his ban.
The GFA imposed a one-year ban on Abedi and demoted Nania FC to the third division on suspicion of match-fixing after the club defeated Okwawu United 31-0 in a Division One middle League match.
Last week Jordaan wrote to the GFA to seek clarification of Abedi's ban following calls for the soccer maestro's removal as ambassador for the 2010 FIFA World Cup, but last Sunday the LOC chief told South Africa's Sunday Times newspaper that the GFA's explanation does not provide enough foundation for the LOC to take any action the Ghanaian legend.
"Right now, we don't have a base to take an action. Pele is still the 2010 World Cup ambassador. He is innocent until proven guilty," Jordaan told the Sunday Times.
Abedi, together with African football legends Roger Milla of Cameroun and Liberian George Weah, played an influential role in South Africa winning the right to host the 2010 World Cup.
The three-time African best footballer is hugely popular in South Africa and his ban by the GFA provoked media interest in the Rainbow Nation with calls for the LOC to review their relationship with him.
Jordaan, who resisted initial pressure to make an immediate pronouncement on Abedi's future, wrote to the GFA to seek clarification on the ban in order to inform any decision on Abedi's future role within the LOC.
However, according to the Sunday Times, the response signed by GFA Deputy General Secretary, Mr Emmanuel Gyimah, provided no clarity on Abedi's guilt and it rather left many questions unanswered.
"We received their [GFA's] response this week, and we definitely need more clarification. The letter only explains his punishment, but it is not clear what the ban is for and what he is guilty of," said Jordaan.
Jordaan stated, however, that his outfit would not condone with anyone involved in match-fixing, and if found guilty the LOC would review its relationship with the Ghanaian soccer icon.
Abedi, who has filed an appeal against his ban claiming innocence, told the Graphic Sports that he had personally sent FIFA President Sepp Blatter and the South Africa 2010 LOC with copies of the GFA Disciplinary Committee ruling on the case in order to establish his innocence.
He was confident that despite the ban he would retain his position on the Football Committee of FIFA.
Story by Maurice Quansah