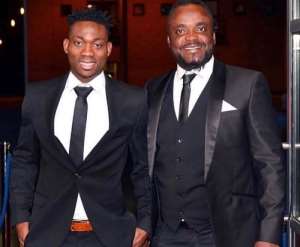 The President of the Ghana Bodybulding Association Mr Abdul Hayye Yartey who also doubles as the bank roller of Cheetah Football Club has dedicated a gold medal award he received last Saturday during the IFBB West Africa Championship at the Bokum Boxing Arena, Accra.
The award was presented to him by the representative of the IFBB President Mr Victor Henandez on behalf of the IFBB President Dr Rafael Santonja for his outstanding contributions to the International development of bodybuilding, fitness and a healthy lifestyle.
Mr Henandez was in Ghana to conduct and supervise the IFBB West Africa Championship.
Mr Abdul Hayye Yartey in his remarks expressed his profound gratitude to the President of the IFBB and dedicated the award to the late Christian Atsu Twasam who was laid to rest over the weekend.
"Let me say an exceedingly thank you to Mr Rafael Santonja for the award. I dedicate this award to my son Christian Atsu Twasam. May his gentle soul continue to rest in perfect peace. I'm proud to be part of life as mentor, adviser and manager".
Mr Yarey has been re-elected as the President of the Ghana Bodybuilding Association in their recent elections.
He was also appointed onto the Executive Board of the Africa Bodybuilding Federation during last year's IFBB Congress in Spain.