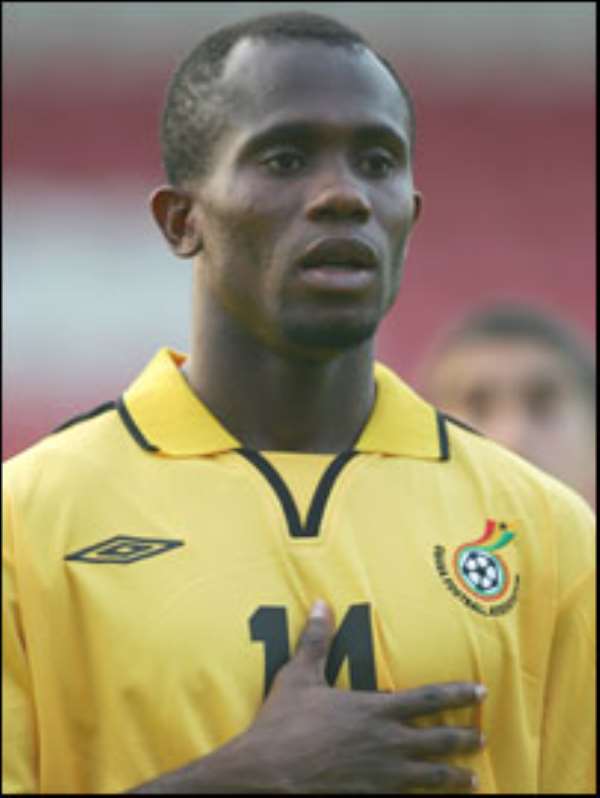 American historian, Daniel Boorstin,rightly noted in one of his writings that in our world of big names, our true heroes—the unsung ones—tend to be curiously anonymous.
This description aptly fits Black Stars striker, Matthew Amoah,may not grab the headlines but has been very instrumental in Ghana virtually securing a historic FIFA World Cup ticket.
Last Sunday Amoah scored a brilliant goal against Uganda after dribbling past two markers before firing a ground shot past Uganda's goalie Dennis Onyango,to give Ghana 2-0 victory in the crucial World Cup qualifier.
It was his third consecutive goal for the Stars in the qualifying series,having scored a goal each in the two previous matches against South Africa and Burkina Faso.
Each of Amoah's three goals were very significant in their own respects, but it was his 83rd minute winning goal against Burkina Faso on June 5 in Kumasi that saved Ghana's World Cup flagging campaign.
The youngman in the No.14 jersey was the hero of the day and warmed himself into the hearts of Ghanaians.
Often overlooked by past national coaches,Amoah was hardly continued to hit the headlines in the Dutch first division for the last six years.
Perhaps,the 24-year-old striker was just biding his time, and he could not have chosen a better time to make Ghanaians take notice of him.
It took just a few minutes in his first outing under new Stars coach Ratomir Dujkovic to earn the deserved recognition of the Serbian who has since handed the Vitesse Arnhem striker a place in the Stars starting line-up.
And three important goals was his way of repaying the faith Dujkovic reposed in him. Two weeks after his match winner against Burkina Faso, Amoah and Michael Essien combined to give Ghana a 2-0 victory over South Africa in Johannesburg, completing his hat-trick against Uganda last Sunday.
Dujkovic rates very highly as a result of the striker ability to adapt to various roles and positions in a match ad providing the coach several options,as was the case when he played in the outside-right position against DR Congo in Kinshasa in March.
Since the Burkina Faso game, Amoah has become Dujkovic's first choice lead striker, partnering Enyimba's Joetex Frimpong, Asamoah Gyan and Isaac Boakye at different times, but lately Dujkovic favours the new-found chemistry between the Vitesse striker and Joetex as his preferred two-prong attack.
Three years ago, Amoah was part of the young Stars team that reached the quarter-final of the 2002 African Cup of Nations in Mali but he fasiled to hold down a first team position was subsequently dumped and only made sporadic appearances in national assignments.
However, he has matured with time and could hardly be overlooked by Ghana. Born on December 18, 1981 in the harbour city of Tema, Amoah's career path is a sharp departure from that taken by his team-mates.
He is not a product of the FIFA-organised age-group competitions as is the case of high-profile team-mates as Stephen Appiah, Michael Essien,Sulley Muntari, Laryea Kingston and Sulley Muntari.
An introvent by nature, Amoah commands a lot of respect among his Stars teammates anf team officials, especially his roommate Yakubu Abubakari, who joined him at Vitesse last season from Ajax.
Amoah's flight into European football was swift and also with a slice of luck as he joined Vitesse straight from secondary school —Saint Augustine's College, Cape Coast — in Ghana, after being spotted by an agent during a youth tournament in Ghana.
Then Vittesse coach, the former Holland and Barcelona star Ronald Koeman loaned out the promising Ghanaian to Fortuna Sittard in the 1999-2000 season for first team experience.
He scored 10 goals in 15 appearances as Sittard battled relegation. In 22001 Koeman promptly went back for Amoah in who emerged top scorer for Vitesse with 11 goals in 33 matches.
His scoring record for the national team pales in comparison with his strike rate in Holland but at 24, Ghanaians are yet to see the best of Amoah, who will be remembered as one of the principal architechts that shaped Ghana's World Cup dream.