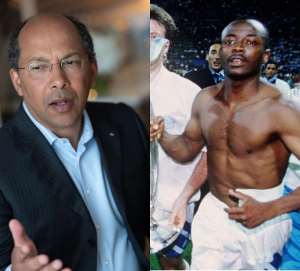 APO Group chair, Nicolas Pompigne-Mognard [Left] and Abedi Pele, former Ghana and Olympic Marseille attacker [Right]
Founder and Chairman of APO Group, Nicolas Pompigne-Mognard wants the government of Ghana to take advantage of the link between Abedi Pele and Olympique de Marseille to promote the country across Europe.
As chairman of a group that is the Pan-African public relations agency of FIFA and an official partner of Marseille's African program "OM Africa", Nicolas Pompigne-Mognard strongly believes that the bond between the Black Stars legend and the French Ligue 1 giant can be leveraged to sell Ghana to the world.
In an interview with Modernghana Sports, he strongly recommended that Ghana goes the Rwanda way to tell the world it is open for business and tourism.
"There is already an extraordinary bond between Ghana and Olympique de Marseille; a bond named Abedi Pele; one of the greatest African players of all time who made OM win their first and only UEFA Champions League in 1993; the only French team to have won this coveted trophy as a matter of fact.
"Football has a fantastic way of reaching and speak to people. One of the best ways for Ghana to benefit from a partnership is to use the OM team and its legends to promote the country across Europe. We have seen the success of countries like Rwanda, Mauritius, Malaysia, and Azerbaijan. These previously unknown countries now boast very high levels of awareness, interest, and consideration," Nicolas Pompigne-Mognard shared.
The APO Group chairman added, "Firstly, the world needs to know more about Ghana, and secondly, that Ghana is open for business and tourism. And what better way to do it than through the universal language of football?
"Another more obvious opportunity is football development. OM is renowned for developing many great African footballers and providing them with the opportunity to play for some of the most significant leagues in Europe. That is also why they have such a big following on the continent. Football and sports development, in general, build good citizenship; it teaches teamwork, respect, and equality. It instils fundamental values, so getting the right skills and knowing how to develop players (boys and girls) at grassroots levels means possibly finding the next Abedi Pele and, most importantly, investing in Ghana's future youth."
APO Group Chairman Nicolas Pompigne-Mognard was in Ghana throughout last week after he was invited SECAM Plenary Assembly, where he addressed an audience of 130 Cardinals and Bishops representing over 600 catholic bishops from all corners of Africa.
His outfit is a major promoter of Africa's economic growth across all sectors. It also promotes the growth of African sports among other things.
APO Group is the Pan-African public relations agency of FIFA, the governing body of football/soccer; the Pan-African public relations agency of the NBA, and the Basketball Africa League (BAL).
It is also the Strategic Partner of the Association of National Olympic Committees of Africa (ANOCA), the governing body of the Olympic Movement in Africa.