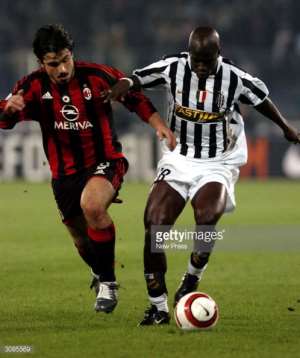 Stephen Appiah, a former Ghana captain has named AC Milan legend, Gennaro Gattuso as the toughest player he has ever played against in his professional career.
Appiah faced the 'no-nonsense' midfielder several times in Italian football.
Despite the number of opponents Appiah played against, he believes that Gattuso gave him the most problems especially during the Ghanaian's time at Udinese.
"The toughest player I faced was Gennaro Gattuso and that was when I played for Udinese," Appiah revealed during Betway's Live Instagram chat with fans on Saturday, May 9.
"We faced Salernitana, a team from the Southern part of Italy and that was where Gattuso was playing at the time.
"He was so difficult to play against and he even broke my tooth by the time match came to an end. He just would not allow you to go away with the ball.
"He was really the toughest among the likes of Emerson, Demetrio Albertini and the many others I came up against," he added.
Appiah played for Udinese, Parma, Brescia, Juventus, Bologna and Cessena in the Italian Serie A.