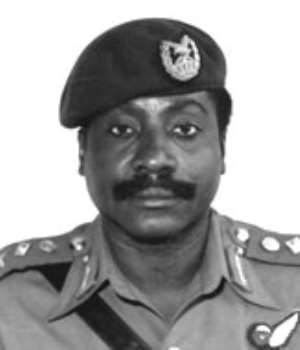 Presidency

1978 - 1979 : Head Of State

Personal Information

Date of Birth : 21st March, 1937
Place of Birth : Akropong Akwapim Eastern Region (E/R)

Date of Death : 30th June, 1979


Educational Background of Gen. F.W. K. Akuffo

1952 – 55 Attended Presbyerian Secondary School Odumasi Krobo (E/R)

1957 Enlisted as an officer-Cadet in the Ghana Army

1958 – 60 Attended Royal Military Academy, Sandurst, UK
1961 Parachute Training, UK
1967 Staff College United Kingdom
1973 National Defense College – India

His Political and Public Life

1965 – 66 Commanding Officer Airborne Training School Tamale Northern Region (N/R)

1969 – 70 Commanding Officer, 6th Battalion

1970 Director General, operations and Planning i.e. Ministry of Defense

1972 Second Brigadier Commander
1974 Army Commander
1975 Memberc- Supreme Military Council (SMC)
1976 Became Chief of Defense Staff
1978 Lt.Gen. Fredrick Akuffo replaced Lt.Col. Ignatius Acheampong after he (Acheampong) was forced to resign by the military leaders of the SMC.
1979 His Government was overthrown by J.J. Rawlings in the June 4th uprising. He was later executed by firing squad.