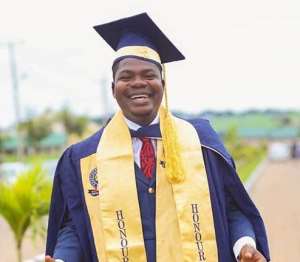 Nollywood actor cum producer, Debo Adedayo better known as Mr Macaroni, is still filled with joy as he recently graduated from the Redeemers University with Upper Credit.
The actor prove many wrongs having gone through lots of challenges for 10 years in 4 different Universities and finally he was able to graduate through the grace of God.
He is an example of grace and dedication which is now evident as he proved to many that no matter the obstacle dedication will always see one through.
Sharing his testimony he wrote, "I struggled and bled for 10 solid years at 4 different Universities for this day. Today is not the day to say if my fight and struggle was right or wrong at these Universities. We are all different people and we have different purposes and visions. Mine is to preach and practice love. To stand for what is right even till death. Could I have aired my grievances and opinions in better ways? Yes. Do I feel sorry for the pain I must have put my Family and friends through; emotionally, financially, psychologically and otherwise? Totally. But I do not and will never regret any action that I took innocently that positively impacted, enriched and made the lives of others better. Simply because this is what God created me for."