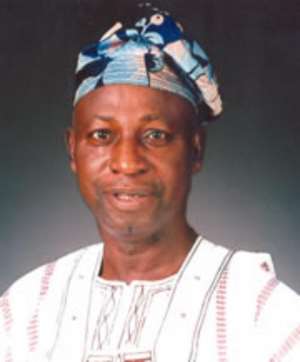 The Association of Nigeria Theatre Arts Practitioners (ANTP) has ratified the election of some members of its executive.
Rising from its fourth Quadrennial Delegates Conference held on Friday, July 11, 2014, at the Orange Hotels, Bolorunduro, Ilesa, Osun State, the National President of the Association, Victor Ashaolu, was given the mandate to begin his first term in office, which is expected to end in July 2018.
Delegates at the conference said all the period spent at the court over the leadership tussle was regarded as 'crisis and transition period'.
On January 30, 2014, Justice M.O. Bolaji Yusuf of the Ibadan High Court 3 in Oyo State ruled that Ashaolu was the duly elected President of ANTP. In 2010, veteran actor, Dele Odule, and Ashaolu went to court to confirm the true leader of the association.
At the conference, results of all elections held in the Local Governments, Zonal and States chapters, such as Lagos, Osun, Ogun, Kwara and FCT (Abuja), as submitted by Elder Kamoru Aremu led National and State Electoral Committees, were approved.
It was agreed that the ANTP Board of the Incorporated Trustees should include Chief Lere Paimo (MFR) as Chairman, Dr. Yemi Faroumbi as member/patron, Chief Jimoh Aliu (MFR) as member, Dr. Akintunde Ayeni (YEM-KEM) as member/patron, Chief (Mrs.)Olagunju Heritage as member, Comrade Dr. Victor Ashaolu as Secretary and any incumbent National President as member (when in office). Delegates at the conference further resolved to give directives to the National President and the NEC to see to the immediate conduct of all outstanding elections in Ekiti, Kogi, Oyo and Ondo States, on or before 31st October 2014.
Consequent upon the vacant positions at the National level after the September 2010 election at Ilorin, Kwara State, a re-run election was held and the following people were elected and confirmed by the delegates at the conference into the following positions;
Comrade (Dr.) Victor Ashaolu as National President
Alhaji Mustapha Eletu as National Deputy President
Alhaji Yahaya Adetunji as National Vice president (South) yet to confirm
Alfa Yisa Alabi Olorunoje as National Vice President (North)
Najeem Adio Tijani as National General Secretary
Mr. Isaac Ajidaun as Assistant National General Secretary
Mrs. Abiola Ayeni Adejumo as National Treasurer
Mr. Tawab Fatola as National Financial Secretary
Miss Atinuke D. Akindele as National Publicity Secretary
Mr. Bakare Shittu as National Welfare Secretary 1 (Male)
Mrs. Yinka Adeleke as National Welfare Secretary 2 (Female)
Mr. Elijah Afolayan as National Chief Whip 1 (Male)
Mrs. Esther Akinola –Omidiran as National Chief Whip 2 (Female)
Comrade Ibrahim M. Yahaya as National Auditor
Mr. Abiodun Rufai (Odua) as National ex-officio 1
However, delegates at the conference referred the issue of the National Vice-president South (Alhaji Yahaya Adetunji) to the newly elected and confirmed National Executive Council (NEC) of the Association for confirmation, or rejection, since the person in that position has refused to comply with all the National Electoral committee directives as instructed and directed by NEC for final decision.
It was resolved that all other three remaining vacant positions (National Organising Secretary, National Ex-officio II and III) should be filled within the next three months as stipulated in the newly reviewed and amended 2014 ANTP constitution, which the delegates approved.
Also, delegates agreed that the next National Quadrennial Conference of ANTP should hold between July and September 2018 at a venue to be fixed by the NEC at the appropriate time, while Ashaolu was give a standing ovation for his past effort in moving the body forward.