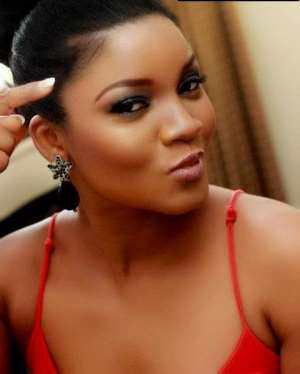 A hail of criticisms has continued to trail Nollywood star actress, Omotola Jalade-Ekeinde's singing ability, following the release of her new single, Barren Land, off her second album titled: Me, Myself and Eyes.
This came on the heels of her recent interview with CNN, where she was played up as a multi-talented actress, singer and philanthropist.
Though this is not the first time her songs have been be subjected to criticisms, the mother of four, unlike actress Genevieve Nnaji, has been unperturbed.
Interestingly, arguments on the social media have, however, shifted from a critical review of Omotola's song, as fans of both actresses are now comparing their talents and celebrity status.
Genevieve appears to have given up singing, after her first album, One Logologo Line, turned out a commercial failure. In the views of her fans, the star actress had taken a right decision.
While commenting on Omotola's latest single, a fan who faulted it for excessive auto tune and bad vocal, said, "I'm a huge fan of Omotola, but the song would have been better as instrumental (no vocals). Does she not have people around her to tell her she cannot sing and that she needs to stick to acting? Love you, Omosexy."
Another fan was quoted to have said that "All I can hear is auto tune! After all these years of vocal lessons… Stick to acting alone, love."
In the same vein, another fan said, "I love Omotola, but singing is not for everyone… If she was my mom, I would tell her NO! You can tell she can't sing. So much auto tune; it is offbeat. And she is singing with her nose. I am crying of laughter as I am typing this. The song has a good message. Omowumi should have sung this, featuring MI. Even Genevieve's I go kick you make you cry song was better than this (laughs)."
However, some believe that the fault is not totally that of the actress, but the producer's.
"She (Omotola) should have gotten Cobhams to do the song for her. He is a terrific producer, especially for inspirational music or TY Bello's Mosa ( Mosadoluwa Adegboye is the award-winning producer of TY Bello's solo debut, Greenland). I don't even live in Lagos and I know all these things," said a fan.
In the view of another fan, though the beat used for Omotola's song was fantastic, he wished that the song was sold to someone else to do justice to it. "And to think this is the song being used by Amnesty International. So, this is the song that was inspired by activism? I can't even talk anymore…This auto tune tie ti je ki ori mi daru die (Yoruba for 'the auto tune is driving me crazy'). Let me go and eat and regain my sanity biko," he said.