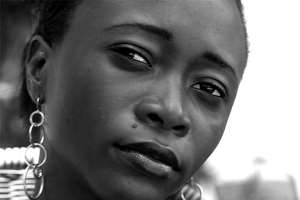 I landed on this article that brought tears to my eyes on the website of the AMAA Awards. It was conducted by ace journalist Ameyaw Debrah for the African Movie Academy Awards with Miss Leila M Djansi on her movies Sinking Sands and Ties That Bind. there's nothing as beautiful as the privilege of seeing a person rise from nothingness to greatness.
Many tweets went out today about Sinking Sands landing a massive theatrical distribution deal and it will be the first Ghanaian film to make a theatrical round in the United States. The film screens in Nigerian Theaters starting October 14th. Visit their facebook page for when its coming to your city.
Please enjoy the beautiful article below:
___________________________________________________________________________________________________________________
US-based Ghanaian filmmaker Leila Djansi's return to the Ghanaian and African cinema has been nothing short of amazing. In 2009, she wrote, produced and directed the multiple award winning movie, I Sing of a Well, which topped the African Movie Academy Awards (AMAA) nominations list in 2010 with 11 nominations, winning 3 awards. She also recently received the BAFTA Los Angeles 2011 Pan African Film Festival Choice Prize with the movie.
In 2010, Leila returned with another critically acclaimed movie, Sinking Sands; this time bringing along Haitian Hollywood star, Jimmy Jean-Louis and introducing Ama K, Abebrese in the leading roles. The psychological drama about a loving marriage that turns into abuse due to a domestic accident, won 5 awards including Best Picture at the inaugural Ghana Movie Awards. Sinking Sands also received 9 nominations in the 2011 Africa Movie Academy Awards and picked up three awards including Best Screenplay, Best Makeup and Best Actress.
Responding to the impact she has had on the AMAA in the past two years, Leila comments: "I'm not sure what to say. I've never been good at responding to compliments. I guess the words pride, joy, appreciation, excited, the grace and favour of God run through my mind. I think the AMAAs' are a great thing and I also strongly believe my bump to the limelight came through the AMAA. I had heard comments of "what credentials do you have" "Leila is a nobody" from people who tried to undermine me. Then the AMAAs happened and suddenly, the rhythms of the drums changed. I was like wow. God does do wonders."
She continues, "Awards like AMAA keep the industry in line. They make people strive to get better and that is what the African film industry needs -the thirst to get better! It's only us who can show the world that we have stories, we have talent, and we have art. It's up to us to sell a different image and impression of Africa to the world. The awards we have are one of the vehicles we ride in to achieve such. What we need to improve the AMAA, I think includes organization, sponsorship and more unsympathetic jurors. I have seen certain movies nominated alongside certain movies and I frown; but all in good time.
Well, the rhythms of the drums will continue to beat the tune of celebrating the works of the talented filmmaker as she returns to the camera, lights and action this year with the new production, Ties That Bind. It tells the story of Adobea, Buki and Theresa, three women from different walks of life bound together by a similar pain; the loss of a child. In a destined meeting in a small village in Kroboland, the women journey together to redemption, love, life and forgiveness as they renovate a dilapidated clinic for the villagers.
Just like Sinking Sand, Ties that Bind sees collaboration between Africa and Hollywood with foreign cast and crew including US actress Kimberly Elise, Ebbe Bassey, Ama K Abebrese, John Dumelo, David Dontoh, Kofi Adjorlolo and Omotola Jolade Ekeinde. Leila explains her reasons for such collaborations. "It's to widen the market. It's not fair we watch all their movies and they don't watch ours. Don't be deceived. It takes stars to shine. If you want attention and profit for your business, use the stars. That's what they are there for. I do that also for artistic reasons. I do not like being limited. If I have a story and I strongly believe its Halle Berry who can carry the role, I will go after her and cast her at all cost."
Certainly producing such movies and marketing it in Ghana or Africa with the pertaining structures come with its own challenges and Leila affirms: "It is challenging to find equipment and crew who know what they are doing. Actors are usually running between 2 or 3 productions at the same time; there are no structures. The theatres have monopoly, the public does not understand art and they purchase all the crap that comes on the market and then have no more money to buy the good stuff. They borrow movies from friends, they demand free tickets. Really there is no marketing structure because the sad truth is, there is no industry. We call it an industry, but the mechanics that drive an industry are nowhere to be found."
Leila is however hopeful that Africa cinema will grow and improve. "I think we are getting there. But what I want to see us do is to form a coalition which will present our good films to Hollywood and other industries. For a minute, let's even forget Hollywood. Right here on the African continent, we have a huge market but it's bordered. Those borders must be removed. Our film industry on the continent must create its own market and worth. I think we have been stagnant for too long because we are not supporting each other. The theatres have monopoly, the movements have no policies. It's a challenge. It's going to be some thick quagmire to wade out of. I want Africa to unite. The film industry of Africa should unite. That is one reason why I admire the AMAAs but I think the AMAAs need to gird their loins and race faster."
Leila also confirmed rumours that she may stop making films in Ghana after her current production, Ties that Bind due to the lack of infrastructural support, emotional support and financial support. "I may come back after a while but I need a break. Like I said, I do not like to be limited. When I was growing up, my aunt said to her son "we are children of God, we must always move forward". That sentence has been my guide for the past 15 years. I refuse to fall from grace or live within a confined space. I don't think that's my destiny. I was on my way to becoming an OBGYN when I became a filmmaker. If I tell you how that happened, you will understand why I do not want to be confined. One prayer I prayed to God when I was packing out of the medical field was the prayer of Jabez. I told God I did not know what I was doing, but I trusted him as the captain of my ship and this is how far he has brought me."
She continues, "My journey has been a miracle, a miracle especially after the huge loss I suffered after I Sing of a Well. God does not confine his children. I am moving up towards directing bigger stars, higher budgets, and bigger projects. I need to expand my territory by the grace of God. My dream is to one day direct the James Bond franchise. I need to train myself for such heights. I intend to make the second instalment of 'I sing of a Well very soon, so I am not leaving Ghana for good. I am going back to practical school and understudying some of the directors I admire."
Leila started her journey into the creative arts as an ardent reader and she became the president of the Ghana Library Board Readers Club for three years running. A screenplay, Babina, for producer Akwetey Kanyi resulted in her first screen credit at age 19. Her career began with Movie Africa where she was a writer–producer. Her work was different from the storylines adapted by most film makers at the time. This resulted in her working with the Gama Film Company where she wrote and produced Legacy of Love. Her first production and second screenplay, Together Forever launched the late Ghanaian screen actress Suzzy Williams to stardom.
Leila began her film education at the National Film and Television Institute (NAFTI) She left Ghana for the United States to continue her Film and Television Degree at Savannah. With an academic background in Film and Television and more recently Cultural Anthropology, Leila is a filmmaker who has chosen to tell stories about life, survival, and the delicate intricacies of culture.
This strong passion led to the establishment of the Turning Point Film Fund, set up to fund and produce films and documentaries primarily about women, children, and issues affecting African society as a whole. Her critically acclaimed film Grass between My Lips won the Platinum Award for Best Film at the 2009 WorldFest International Film festival making it one of the many awards she has won in her career as a filmmaker. Leila has successfully produced movies like The Rub, Love Letters, Baby Blues, Red Thread, Bobby, among others.
Her other credits includes Chandler Hospitals' documentary Health Matters; the Goodness and Mercy Foundation's Hands across Africa; Sci Fi channels Most Hunted Places on Earth; Armstrong University's Study Abroad; Twigcarver, and the dance drama Moja!
by AMEYAW DEBRA
http://www.ama-awards.com/news/through-sinking-sands