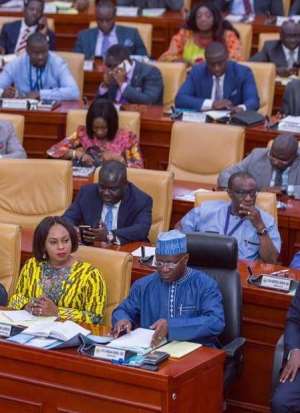 Majority Leader of Ghana's Parliament, Hon. Osei Kyei Mensah Bonsu has charged delegates in the Dome-Kwabenya Constituency to retain his able Deputy Hon. Sarah Adwoa Safo in the august house of Parliament as their Member of Parliament (MP).
The Majority Leader, one of the longest-serving Members of Parliament at a meeting with about 631 Delegates in the Dome-Kwabenya Constituency made a strong case to the delegates for them to retain their Member of Parliament due to the hard work she is doing both in Parliament and in the Constituency.
He noted that Hon. Adwoa Safo remains one of the few MPs who have struck a perfect balance in the work they do in Parliament and also being very visible in her Constituency.
He further reiterated that "She remains the only candidate who can help the party maintain its dominance and maximise votes in the Constituency in the crucial 2020 election looking at the trajectory of votes since she was first elected in 2012."
Hon. Osei Kyei Mensah Bonsu declared his support for Hon. Adwoa Safo to be retained due to the experience she has garnered in Parliament over the last 8years and for which will be wasted if she is not retained in Parliament.
He stated that, "but for the vigilant work done by Hon Adwoa Safo in Dome-Kwabenya in 2012 by uncovering the rigging machinery of the NDC which led to the Infamous election petition, the NPP probably may never have won the 2016 election."
Speaking to the delegates on Tuesday evening, he said, "Many people will come to you for power but ignore them and vote massively for Adwoa, she is the only one who will remain committed to complete the numerous massive developmental projects ongoing within the Constituency."
According to the Majority Leader, the party suffers in Parliament when its Leadership are voted out and implored the delegates to have the party at heart and retain Hon. Adwoa Safo as their MP.
He noted that the Constituency in just three years under H.E. Nana Addo Dankwa Akufo Addo is benefiting from unprecedented developmental projects which were all lobbied for by their hard-working MP.
In concluding, the Majority Leader stated that the NPP constitution paves way for elections to be conducted every four years to elect MP's for the various constituencies and went further to aver the minds of delegates to the 2020 election and the unique role Dome-Kwabenya plays in contributing a large chunk of the party's votes to the party's fortunes and vote for Hon Sarah Adwoa Safo who has consistently delivered these votes to the party.
The NPP parliamentary primaries is slated for April 25.