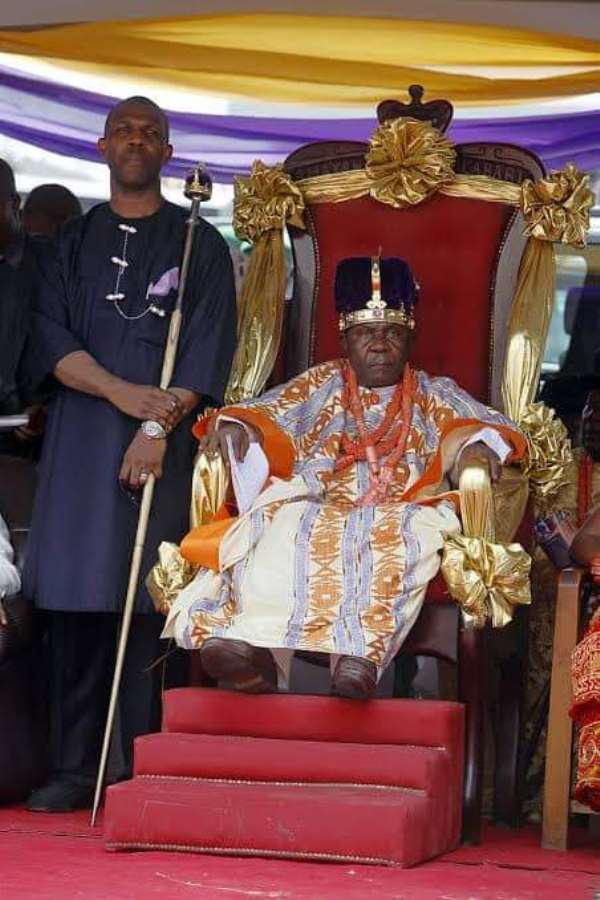 Chief Eze Chukwuemeka Eze, chieftain of the All Progressives Congress and erstwhile National Publicity Secretary of the defunct New Peoples Democratic Party (nPDP) and most importantly, an authority in the history and culture of the Kalabari Kingdom and her people celebrates with the Kalabaris and the Ijaws at large on the auspicious day of the birth of a great father, legend, custodian and keeper of the conscience of a people, HRM King (Prof) T.J.T Princewill, JP, CFR, (Amachree XI), Amayanabo of Kalabari Kingdom, who has the unique divine favour to share the same birthday of 4th January with his son and the Scion of the Kalabari Kingdom, Prince Tonye T.J.T Pribcewill. While the former who was born on 4th January, 1930 celebrates his 90th birthday, the later, born on January 4, 1969 clocks 51 today.
Eze, a renowned media expert whose catalogs on different aspects of the history of the Kalabari Kingdom commands wider circulation describes the birth of these renowned personalities and special breed as one of the cosmic wonders and uniqueness of a father sharing the same birthday with his son and designed to impact positively on Niger Delta area and Nigeria at large.
Eze recalls with pride, his association and relationship with this great family, as well as his acceptance as one of the great sons of this renowned King on a revered throne. Some of the great works of Eze include inter alia- "Kalabari Kingdom- Celebrating a unique culture" plus "BUGUMA CITY: KALABARI COUNCIL OF CHIEFS COMMEMORATE 11 YEARS OF THE GOLDEN REIGN OF THE AMANYANABO OF KALABARI KING (PROF) TJT PRINCEWIL, JP, CFR, AMACHREE XI" , " plus "GOV. ROTIMI CHIBUIKE AMAECHI'S APPOINTMENT OF KING (PROF) T.J.T PRINCEWILL AS CHAIRMAN, RIVERS STATE TRADITIONAL RULERS COUNCIL IS THE BEST 8OTH BIRTHDAY GIFT TO THIS ELDER STATESMAN" plus "KING PROF TJT PRINCEWIL, AMAECHREE XI CELEBRATES TEN YEARS OF DIVINE REIGN - HONOURS 68 ILLUSTRIOUS SONS AND DAUGHTERS OF THE KINGDOM amongst numerous other publications
Eze, a party chief laughed to scorn the stack ignorance exhibited by Senator Magnus Ngei Abe and his misguided group in their desperate but futile enterprise to sell to the reading public, the falsehood that Chief Eze neither comes from nor resides in Rivers State. Little do they know that his association and relationship with Rivers State abounds and are well documented and read all over the world by true sons and daughters of Rivers State, historians, custodians of the Kalabari customs and traditions, as well as lovers of history and historians in general.
Eze describes the Amachree XI as an icon, an embodiment of peace, a vision carrier, an unassuming and exemplary leader, a custodian per excellence, whose humility is infectious and whose prowess and administrative acumen has brought direction and purposeful development to the Kalabari kingdom and her people.
His Majesty, King T.J.T Princewill, JP, CFR, is an academic Professor of great repute who was born on 4th January, 1930 in the ancient city of Buguma, to the royal family of the Kalabari Kingdom of Rivers State of Nigeria. He ascended the throne of his forebears as the Amanyanabo of Kalabari Kingdom on 23rd March, 2002 and was recognized as a First Class Traditional Ruler by the Rivers State Government same year he was crowned king.
King Prof. T.J.T Princewill started his academic pursuit at the famous Baptist School, Buguma in 1934 at the tender age of 4 and was adjudged the youngest ever to be enrolled to school. He graduated in 1946. After series of passage through various other schools, he ended up at University of Leeds, England from where he obtained his Ph.D. Degree in Microbiology in 1975. He has to his credit, over 30 publications published in scientific Journals from 1965 till date.
He served as Head of Department, Microbiology, University of Port Harcourt from 1982-1984. Dean of Students' Affairs of University of Port Harcourt from 1985-1986, Dean, School of Graduate Studies, University of Port Harcourt, 1987-1990; Dean, Faculty of Science, Rivers State University of Science and Technology, (now Rivers State University), Port Harcourt from 1991-2000. During this time he also distinguished himself as a Lecturer, Visiting Lecturer and External Examiner to various Universities in Nigeria.
Furthermore, as an internationally acclaimed scholar, he is a fellow of several academic bodies including, the Society for General Microbiology (UK), Society for Applied Bacteriology (UK), British Spore Group, Nigerian Society for Immunology, Nigerian Society for Animal Production and countless other societies of local, regional, and international jurisdiction.
This great King of Kalabari Kingdom is the first Professor to be made King in Rivers State and the first King from Rivers State to be decorated with a national honour - Commander of the Federal Republic (CFR), by the President of the Federal Republic of Nigeria. T.J.T Princewill, an academic cum traditional ruler is also the first Kalabari King to Chair the Rivers State Council of Traditional Rulers and the First King of the Kalabari Kingdom to be appointed a Pro-Chancellor of a University.
He has the singular honour of teaching most of the great leaders in Nigeria including former President of Nigeria, Dr. Jonathan Goodluck and the most successful Rivers State born politician, Rt. Hon. Dr. Chibuike Rotimi Amaechi erstwhile Governor of Rivers State and Nigeria ever best Minister amongst many other great leaders.
Prior to the installation of King (Prof) Princewill, insecurity (occasioned by militancy) was the hallmark of the kingdom. Life was almost "brutish, nasty and short" as though it was a pre-governmet society as posited by Oliver Holmes. Properties were destroyed and the respect to the sanctity of human life was thrown to the dogs. Succinctly put, this period was the years of 'darkness, backwardness and Annihilation', when militia groups kidnap, maim and struggle for territorial control, but to the credit of this man of Peace and phlegmatic leader, peace, orderliness and sanity was returned to the kingdom.
On the other hand, the Scion of the Kakabari, Prince Tonye T.J.T Princewill, better addressed as the 'Prince of Niger Delta Politics' is one of the great politicians who have distinguished himself in the politics of the State and the country at large. A Nigerian investor, politician, film producer and philanthropist. He was the 2015 Labour Party and 2007 Action Congress nominee for Governor of Rivers State. He is currently a staunch member of the All Progressives Congress (APC).
One time political ally of the then former Vice-President of Nigeria, Atiku Abubakar and the former Governor of Lagos State and National Leader of APC, Asiwaju Bola Tinubu and a great Admirer and follower of Rt. Hon. Dr. Amaechi.
This great grassroot politician made history when he decided to join forces with Rt. Hon. Chibuike Rotimi Amaechi in 2007 to form the most successful unity Government ever in Nigeria. According to the Peoples Prince, "We took the decision at the time that the enemy of your enemy is your friend," indicating his opponents were Celestine Omehia and his 'godfather', Dr. Peter Odili, the former governor of Rivers State when Rotimi Amaechi was installed by the court. He claimed that the decision to withdraw his case was made even easier because the same people who offered to give him 1.5 billion to withdraw his case, came back to offer him 1.5 billion and evidence of how they rigged the election against him to keep his case in court with the motive to remove Rt. Hon. Amaechi.
Tonye Princewill later led members of the opposition parties in Rivers State under the banner of the Forum of Organized Opposition Political Parties to form a unity government with the Rt. Hon. Rotimi Amaechi's administration.
Notwithstanding the position of his opponents, Tonye Princewill stands as a decimal in the politics of the Niger Delta region.
Princewill, now an avid APC member and frontline chieftain was appointed the Director of Strategic Communication for APC's Tonye Cole to execute the 2019 Gubernatorial campaign in Rivers state and if not for the acts of Abe and his group, he would have succeeded to install an APC Administration in Rivers State.
The Media mogul and a respected son of the King expressed appreciation to Nigeria's first citizen, President Muhammadu Buhari and His Highness Nuhu Muhammed Sanusi, The Emir of Dutse for their heart touching congratulatory letters and other leaders from far and wide who find time to congratulate the Kalabari people, on the birthday of their King and Prince.
Eze slammed Governor Nyesom Wike and the Rivers State Government for not finding it wise to congratulate one of the greatest Kings from the South-South region of Nigeria on this auspicious occasion and urges the Governor to formally apologise to the Kalabari Kingdom for this shocking embarrassment and blunder."We can no longer condone or support any further insubordination or disrespectful act to the person and stool of the Amayanabo of the Kalabari Kingdom.
Eze noted with the great feats achieved by this legend, the need of the government of Rivers State to declare every January 4 henceforth a public holiday, to allow citizens and diplomats cling glasses over the celebration of a father and a son who are beloved and pleasant in the sight of Rivers people and Niger Deltans, as they add another year to their different ages to the glory of God becomes imperative.
King and Prince Princewill played key role in my politics and stay in Rivers State and I pray God to grant the duo who are both father and brother to me many more years and capacity and strength to serve humanity better.
Long Live APC!
Long Live Rivers State!!
Long Live Federal Republic of Nigeria
Long Live President Muhammadu Buhari
Chief Eze Chukwuemeka Eze