The Oppression Of Journalists In Dictatorship African Countries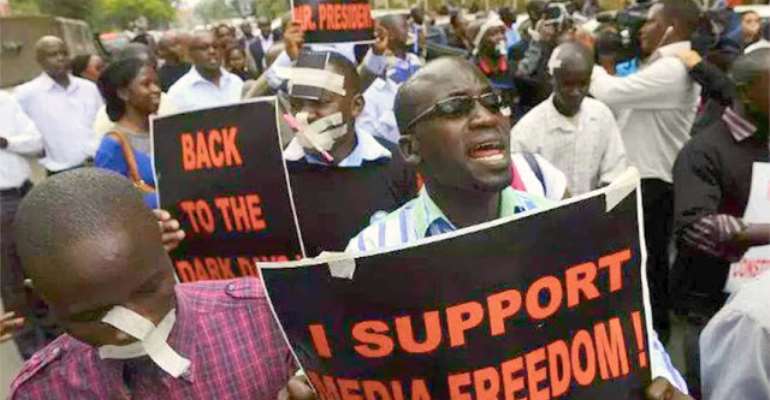 Many world leaders, such as Adolf Hitler, Jozef Stalin, Saddam Hussein, Kim Jong Un, etc, throughout history, have come to power at the expense of their peoples, subjecting allies and enemies alike because of the burning desire to dominate others and be in power. We have similar leaders in Africa too.
No unscrupulous despot conquers power without having some sort of lust for power from the beginning. Once the desire for power is instilled, it leads to the development of a plan to obtain it, and then a plan to obtain even more.
Thus; the leaders of Equatorial Guinea, Teodoro Obiang Ngema Mbasogo and Eritrea, Isaias Afwerki, have chosen some paths that can help them to achieve their goals.
President Teodoro Obiang Ngema Mbasogo, is in power since 1979; and has been the longest head of state in power. His government tightly controls how and what journalists cover in Equatorial Guinea. All broadcast media are owned by the government, with the exception of RTV-Asonga, a network owned by the son of President Teodoro Nguem Obiang, who is also the country's vice president.
Local and international media are prohibited from covering certain topics that are considered to threaten the image of the country or people close to the president.
Although private newspapers exist, journalists are at risk of prosecution for reporting or to those who are considered critical of the president, his family, or the government as a whole, and are thus often self-censored, according to a report by CIVICUS, a global alliance of civil society organizations and activists, in June 2019.
The websites of foreign news agencies and the political opposition are regularly blocked, according to a report from the civil society in October 2018 to the UN Universal Periodic Review.
Pursuant to the 1997 Law on Press and Audiovisual Media, journalistic activities are restricted, including official preliminary censorship, defamation and remain criminal offenses under the Criminal Code, as stated in the CIVICUS report and Freedom of the Press, owned by Freedom House.
In November 2017, Internet access was closed on Election Day in parliamentary and municipal elections, and Facebook was blocked about three weeks before the vote.
In September 2017, cartoonist Ramon Nse Esono Ebale, who lived in exile, was arrested by the authorities of Equatorial Guinea while in the country to renew his passport.
He was interrogated about his drawings and the blog, which contained critical comments on the president, and was imprisoned for six months on false charges of money laundering and counterfeiting.
After his release in March 2018, authorities refused to renew his passport for several months, preventing him from returning home to his wife and child in El Salvador.
In Eritrea, is another dictator called Isaias Afwerki, who has been in power since 1993. The government shut down all independent media in 2001. Afwerki's hate for journalists has made him the most vicious jailer of journalists in sub-Saharan Africa.
At least 16 journalists were put behind bars on December 1, 2018. Most of them were imprisoned after the repressions of 2001, and none of them was brought to trial. According to Article 19, the Freedom of Expression Organization, the 1996 Press Law requires media to promote national goals.
The state retains a legal monopoly to broadcast media, and state-owned media reporters adhere to the editorial position of the government for fear of retaliation.
According to the Deutsche Academy, alternative sources of information, such as the internet, satellite broadcast or banned radio stations, are limited due to specially created interference and poor quality of Internet speed controlled by the government.
Also, the United Nations International Telecommunication Union, reveals that the level of Internet distribution is extremely low, just over 1% of the population has access to the global network. Users are forced to visit Internet cafes, where they are easy to follow and control.
A report from the ICT Collaboration on International ICT Policy for East and South Africa, published in March 2019, states that an authoritarian state is so violent or imperious that it makes it unnecessary to tune out Internet failures.
However, on May 15, 2019, the BBC announced the closure of access to social networks in Eritrea before the celebration of the country's Independence Day. According to The Economist, with the opening of the border with Ethiopia in mid-2018, some foreign journalists received special accreditation to visit Eritrea, but access was strictly controlled.
Based on the latest information, seven journalists under arrest died. The Committee to Protect Journalists - CPJ, was unable to confirm this information due to an atmosphere of fear and tight government control. The government rejected all requests for specific information about the fate of imprisoned journalists.
In June 2019, more than 100 leading African journalists, scholars and human rights activists wrote an open letter to President Afwerki, asking them to visit long-imprisoned journalists and activists but the request was strongly rejected, as it was deemed inappropriate by the Ministry of Information.