Quality Insurance Company (QIC) Limited has rolled out a new insurance policy dubbed: 'Go Girl Policy' under its 'Kingly Queenly' package, made especially for women.
The product will offer partakers a free courtesy car when their vehicle is not available, it will prompt clients when their vehicles are due for inspection and it will offer free vehicle servicing at all Total Service Stations, all across the country.
Speaking at the launch in Accra, Managing Director for QIC, Kobina Addison said: "Over the years after we launched our Kingly Queenly product we realized that we needed to do something for women and we decided to launch the 'Go Girl' and it gives a free courtesy car to women. They've been requesting this for about five to six years and they have it now."
"It's your same comprehensive policy, there's no more premium, just walk into QIC, ask for your 'go girl' and get your 'go girl'. But what's quite interesting about 'go girl' is that a percentage of everything we take goes to pediatric units nationwide," he noted.
He added that the policy allows prompting for vehicle and license renewal dates as well as facilitation of renewals at all DVLA Prestige Centres.
Brand Ambassador for the 'Go Girl' policy Obuobia Darko-Opoku, a former Deputy CEO of Free-Zones Authority also explained that there would be one free vehicle servicing for all 'go girl' policy holders.
Brand Ambassador for the 'Go Girl' policy Obuobia Darko-Opoku
"So when women sign up for the 'go girl' policy, their next vehicle servicing will be paid for by QIC," she said.
Ms Darko-Opoku added: "I will work with QIC to create a networking platform for all 'Go Girl' policy holders. The platform will provide support to women over a wide variety of important issues including career, health and wellbeing, business, family, amongst others. We will assemble a team of mentors and coaches who will assist to provide the needed support."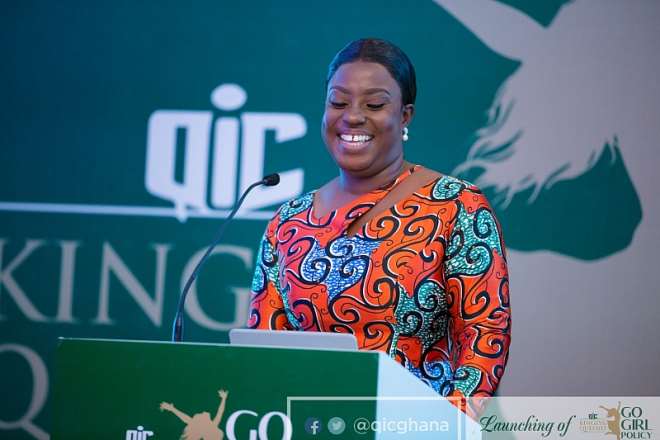 Brand Ambassador for the 'Go Girl' policy Obuobia Darko-Opoku