Over 32,000 teachers to benefit from Milife GNAT Heritage Cashback Plan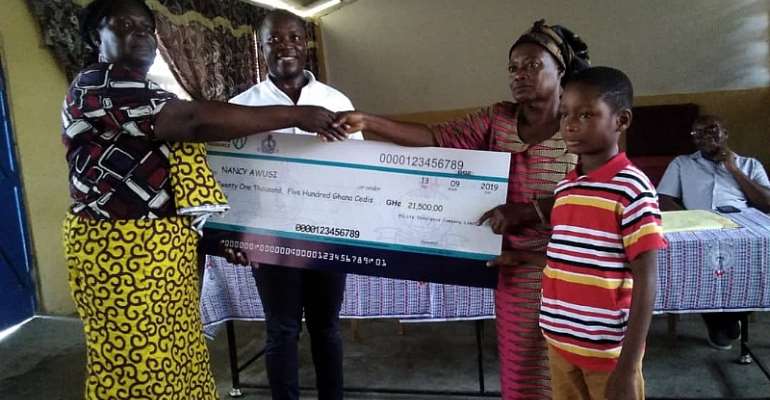 As part of the effort for teachers to live an extraordinary life after retirement age, over 32,000 teachers have signed on to MiLife Insurance on Ghana National Association of Teachers(GNAT) Heritage Cashback Plan which is MiLife design policy for GNAT members and all other Ghana Education Service(GES) staff willing to sign on.
The Assistant General Manager in Charge of Distribution of the Company, Mr. Benjamin Kwabena Nketsiah hinted that GNAT and MiLife had been in partnership since 2017 to make the policy very simple and affordable for all GES staff to help them live and achieve their dreams.
According to him, MiLife Insurance has so far paid a total of GH¢1,191,820 as death claims to the beneficiaries of 59 deceased members of the association and called on every GES staff especially teachers to be on board to enjoy its benefit.
At the presentation of cheque to the family of a deceased contributor at Abura Dunkwa Methodist Primary 'A' school, MiLife Insurance paid GH¢21,500 death claims to the next of kin of the deceased, Nancy Awusi a member of GNAT, who contributed three months for the life Insurance policy before her demise.
Mr. Nketsiah stated that MiLife Insurance company believes in getting Insurance to the doorsteps for clients for claims payment without going through struggle.
He noted that life Insurance policy for GNAT members is currently opened to all teaching and non teaching staff of the association and urged all members to register with Milife Insurance policy in order to enjoy its benefit.
On his part, the Central Regional Chairman of GNAT, Mr. Isaac Owusu encouraged his members to take advantage of MiLife Insurance Policy and register with the policy that will yield fruitful results since the government through GES have failed teachers on Collective agreements for teachers.