Kinshasha, Lagos, Tokyo, Paris: guitarist Kiala travels with Afrobeat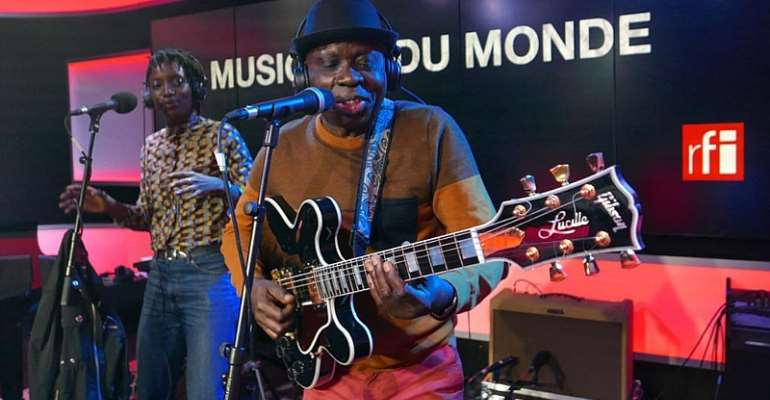 Congolese guitarist and singer Kiala Nzavotunga has played with Fela Kuti's Egypt 80 band, founded Europe's first Afrobeat band Ghettoblaster in Paris, and recorded with avant garde bands in Japan. He's now released his first solo album Money with The Afroblaster. He talks to RFI about some memorable moments in his 30-year career.. including being helped and insulted by Fela.
"Afrobeat is like reggae, you have to send a message," Kiala tells RFI. "You have to be politically, ideologically [aware] if you want to do Afrobeat."
Kiala Nzavotunga, now 66, was born to Angolan parents and grew up in Kinshasha. He spent his early years as a musician playing with the great Joseph Kabasele, aka 'Le Grand Kalle' in Africa Jazz. And he joined the soukous rumba band Negro Success.
But in 1974 he "got tired of playing for Mobuto" and headed for Nigeria.
Poor and without contacts, he sold his shoes to pay the ticket to Lagos with the sole aim of asking Fela for help.
"He gave me 50 naira, in those days that was 50 dollars, I left and went to start my new life."
He finally joined Fela's Egypt 80 in 1981 but it was a scary beginning.
Fela asked him to play Cross Examination and counted him in. 
"He shouted 'stop, motherfu**er this is not an African beat'! My heart start to beat like a drum," Kiala recalls, his eyes popping at the recollection of it.
He wanted to leave but stuck it out and learned to play in the more percussive way required. It worked,  he stayed with the band two years and recorded the album Original Suffer Head. 
They use us
Kiala's first solo album Money recorded with The Afroblaster (French percussionist Cyril Atef and the late Cameroonian bass player Hilaire Penda... among others) features an honorable cover version of Fela's Sorrow, Tears and Blood.
And the song They use us is very much in the spirit of Fela's Pan-Africanism. 
"I'm talking about Europeans, the white people that came to colonise Africa. I say 'they use us, now they don't want us'. They don't want immigrants to come here, they forgot what they did.
"When I was a little boy I didn't know anything about life, and in school we were learning the history and geography of the Europeans and I ask myself:  'why not African history?'. I didn't know about Africa when I was at school, we learned about Congo, about Belgium, the king, but I didn't know the continent."
Kiala admits he owes Fela a lot.
"He made me understand being African you have to know your roots before thinking of another culture [...] even to change your name. Because I was born Kiala Nzavotunga David. 
"So with Fela I understand a lot of things and I learn to love your brother blacks.  Don't think 'you're from Congo, that person from Ghana is not my brother'. We are all the same you know, I learned that." 
Kiala is preparing a tribute album to the late Hilaire Penda, founder of Les Rares Talents festival which supported many African artists in France. 
Follow Kiala on facebook