AAMA Hands Over Cashew Seedlings To Department Of Agriculture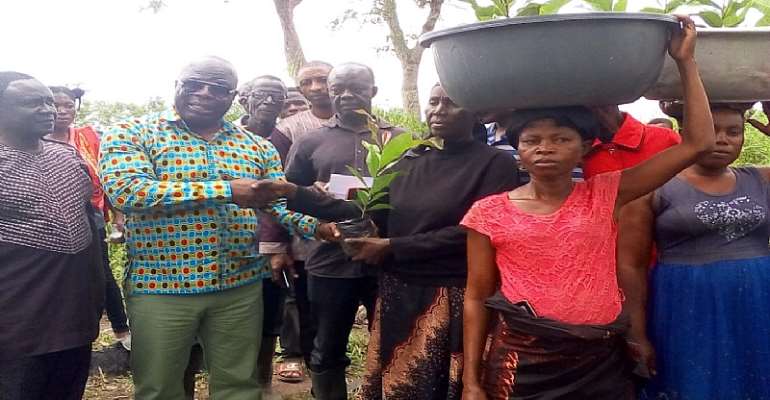 The Atebubu-Amantin municipal assembly has presented 87,000 cashew seedlings to the Department of Agriculture for distribution to interested farmers free of charge.
About 1350 farmers are benefitting from the current allocation which is under the Planting for Export and Rural Development initiative of government.
Making the presentation, the Municipal Chief Executive Mr. Edward Owusu said the gesture was in fulfillment of President Nana Addo Dankwa Akufo-Addo's campaign pledge of improving the lot of farmers and rural dwellers.
He referred to a similar package last year under which the assembly distributed 47,600 seedlings to farmers and pledged the assembly's continued support for farmers under the initiative.
"The Assembly has sunk a lot of resources into the nursery and I will like to urge you to take care of the seedlings as though you used your own resources to produce them." The MCE said.
Officials of the Department of Agriculture took beneficiaries present through best practices in cashew transplanting.
Some beneficiaries expressed their gratitude to the President and the municipal assembly for the support which according to them offers hope for the future.
Abusuapanyin Kofi Wusu who stood in for the traditional authorities expressed the gratitude of his people to the municipal assembly for the choice of their land for the nursery and pledged their readiness to make the land available to the assembly on a permanent basis.