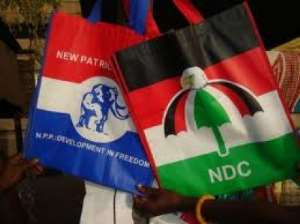 Two related stories: a speculative story that NDC is considering Prof Kwesi Botchway, Ghana's longest finance minister as John Mahama's running mate in the next election; and the second story is about President Nana Addo blasting past governors of BOG for their incompetence that has resulted in the collapse of many local banks here.
When I heard the first story related to Prof Kwesi Botchway, I prayed it was a joke. I wondered if there was anybody here who still believed having economic experts at the helm of political authority in Ghana would do the magic for Ghana's economic development.
NDC/ NPP are clueless.
They always make it seem that having a former Governor of BOG as Vice President of this country would change the economic fortunes of this country.
Meanwhile, these same Governors are the ones the President is blaming for the collapse of local banks. It is these same Governors who stood by unconcerned whilst managers of local banks squander ordinary people's savings.
Anybody who visits a bank would know that it is the daily sales of the ordinary illiterate market woman or the cattle trader that are brought to the banks that persons with Economic degrees like Bawumia manage and live on at the banks.
But we don't respect the market woman and cattle trader whose moneys banks run on
We respect the economic experts who only know about book way of managing money and not really how money is made.
Now, Nana Addo finally confesses these Economic experts at BOG are clueless
We must stop thinking that having people with plenty of Economic degrees at the helm of affairs of this country would miraculously change the economic fortunes of this country.
What we need is to have people who are pragmatic about life and who are ready to do the real practical things that would change this country.
I can on top of my head give two practical ways that could help us change this country for the better in the shortest possible time.
I will like to propose that we have a new curriculum that educates the Ghanaian from the primary level up to the universities that Agriculture and its related activities are great options for gainful employment.
In the face of the recent bank crises with its job loses, our graduates should be considering other areas of gainful employment.
In this country, even as we feel good about ourselves here, we still import things as basic as onions, tomatoes, and rice.
The day Ghana becomes sufficient in producing most of what the people eat, that would be the day one should be convinced Ghana is making progress.
For now, our economic experts are just deceiving themselves that Ghana is making progress.
And our youths who can't find jobs because there are no factories here can find decent livelihoods in goat, sheep and pig rearing.
Agriculture still holds the magic wand here for young men and women who have left school to make good money here, buy cars, build houses; and marry wives.
I am a witness to a farmer who did dry season Okro cultivation and bought a car from it.
I know what I am talking about.
It is would be an absolute waste of time in schooling if anybody leaves the university in Ghana and feels shy to go to the farm.
That person isn't properly educated.
The next thing I wish politicians would do is to see to the construction of rail lines to link all the regions in this country.
We say the best comes from the west, and it is true. The gold, the diamonds; the timber; the cocoa etc are in the west.
And foreigners are coming into this country and moving into the western region to tap these resources for their own use; and our university graduates are selling ' anwa mo' oil-cooked rice in the city.
What is wrong with us?
And if the government would construct railway lines to link the north to the south, we would be exposing the youth to the economic possibilities in the hinterlands.
And we have numerous economic opportunities in the hinterlands
Rail transport is faster, safer and cheaper than road transport and air transport.
Giving the youth opportunity to move around this country faster and safer on rails could motivate doctors, nurses, teachers to take up appointments in the hinterlands because they know that they can easily have access to all the fun in the cities at the weekends.
We should not be sitting here thinking that FSHS would change this country. The best FSHS can do is to get more people to be literate and to get some education.
And we already have a lot of schooled people here who are useless or underemployed.
Free SHS could also help us to get our young men and women not matured enough to go off the street.
But for FREE SHS, most of these young men and women enjoying free SHS might be crowding on our street engaged in not so many profitable activities with all the problems street hawking brings to city authorities.
We are buying our peace of mind with FSHS, and we must thank the president for this initiative.
But these two may probably be the only benefits FSHS would bring to this country.
FSHS hasn't gotten any more magic in it to develop this country.
If we don't wake up to do the practical things to get this country to make progress, we would be here importing tomatoes to eat; our young graduates would continue to come out of school unto the street looking for non existent jobs and our leaders would continue to roam the world begging for loans to build cathedrals for us.
We would be just here doing our NPP/ NDC when Christ comes.
Paul Zowonu
Accra