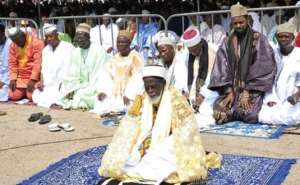 The Ramadan fast, one of the five pillars of Islam has ended worldwide. We give thanks to Allah for guiding us through it successfully. Muslims have therefore entered into the festive mood to observe the Eid-Al-Fitr prayers in mosques and open spaces.
In Ghana where a holiday has been declared today for all Ghanaians, the Eid prayers will be held at the Independent Square in Accra and at the regional and district capitals. For the past month, Muslims who were of the right ages agreed with Islamic law to stay away from food and water and bodily pleasures from dawn to dusk.
During the month Muslims did not only stay hungry but worshipped day and night and gave to charity by feeding the poor and needy within the Muslim communities as directed by Allah. The good part of it all is that many non-Muslims such as Christians assisted the Muslims with food to break their fast. In the Ga East Municipality, the Municipal Chief Executive, Janet Tulazi Mensah donated food to Muslims in many parts of the locality. This shows how close and harmonious Muslims are with all people of Ghana.
The observance of the fast is said to be good for the health of the Muslims. Some Muslims have revealed that their blood pressure and other medical conditions improve with the fasting period. Again The National Chief Imam and other Imams have admonished Muslims young and old to take advantage of the holy month during which they worshipped God day and night to improve on their moral lives. They were advised to desist from living reckless lives and unwarranted ridding motorcycle in the cities and towns.
The youths must move more and more to doing good to their parents, teachers and people in Ghana generally. This advise is good for the youth. If they follow through with it they'll stay away from vigilantism, robbery and murders which are becoming rampant in some parts of Ghana. It's my prayer that the prayers said during the month will touch the heart of those engaged in communal violence in northern Ghana as Chereponi and between other towns and between Chokosis and Kokombas to bring the age-old conflicts to an end.
The spirit of peace must prevail in Ghana to stop people from attacking Churches as experienced in Sri Lanka and Burkina Faso and other nations. While thanking God for bringing Muslims and the nation this far to work for peace, it's our prayer that Muslims in Ghana will not abandon the good cause they have charted in spiritual development, morality, peace and love for mankind during the month of Ramadan.
I wish all Happy Eid celebration.
Long live the Muslim leadership and members in Ghana Africa and the world.