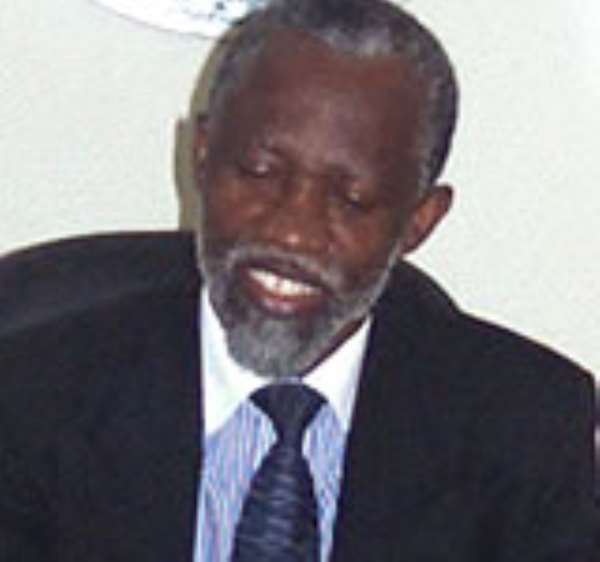 Hi Professor Stephen Adei,
When the inexplicable happens, the unquestionable is imagined! Also when the hawk visits the feast of the Eagles, that hawk is only risking to be part of that feast. He that invites the evil wind must make sure his tent is solidly strong to withstand it. I monitored you on Class Fm yesterday and you were throwing tantrums, you said former President John Mahama run a corrupt family and friends government, basic school teachers are criminals, Ghana as a country has failed but Akufo-Addo is 'unbelievably excellent!' etc.
As a young guy who grew up with a very good upbringing, I was told when I was a little boy that we shouldn't call the private parts of an old widow, should that be the case, how do we give her a baby then? "The lizard that throws confusion into its mother's funeral rites, should not expect outsiders to carry the burden of honouring the dead"
I think you get me right erh? Anyway, I am available to explain it better to you by what I mean with these statements when you call on me.
I will address your issues in an orderly manner. It's very true that President Akufo-Addo is unbelievably excellent, indeed he's excellent in corruption because he's the chief priest of corruption. He's unbelievably excellent in gross incompetence because "This president has exhibited gross incompetence, ignorance, poverty of ideas and lack of innovation. He has been excellent in inflicting unprecedented suffering on the people of Ghana, he has been excellent in turning our able-bodied men into gamblers, he has been extremely excellent in turning teenagers into 'sakawa' boys and girls, always browsing, children who should be thinking studying their books are either defrauding people on the Internet or thinking of money rituals. I hope you heard the latest from your own backyard; Eastern region where a 17 years old JHS female student took her 15 years old cousin to Sunyani for money rituals but was unsuccessful? Indeed Akufo-Addo has been excellent in importing kidnapping business into Ghana, and I know you are aware of the 3 Takoradi kidnapped girls? There's an update on that, another was kidnapped yesterday in the same Takoradi and 3 days ago, there was another incident of kidnap in Ho, where and who the next victim is, I wouldn't know but probably you might be the next victim of kidnapping!
There's so much robbery, serial killings, suicides in the system now than ever, indeed Mr. President is unbelievably excellent! For the first time in Ghana, an investigative journalist has been killed, his crime is he abhoring corruption and exposing the criminals of the current regime. The truth is that Mr. President never even imagined he could be a President again after his unsuccessful attempts, all he intended was to create problems for JM by lying and promising big knowing very well he won't be president to be assessed so he seems so clueless on his job, he's always unaware of the evil happenings in his own government, so this regime is one presidency that would be neither here nor there, everywhere and nowhere, visible yet ineffectual, present yet absent in nature and action; the consequences being that, Ghana is no longer at ease, in fact things have fallen apart and the centre cannot hold, suffice it to say the blood-dimmed tide is loosed upon the world, and everywhere the ceremony of innocence is drowned!
Professor, as for the family and friends tag and huge government, I'm sure you've now seen the light? Because Akufo-Addo is running an Akyem league not a government! We now have not only family and friends, but business partners, concubines, baby mothers, side chicks, side hens etc government. You currently feature in the Akyem league too! For the first time in our history, and in the history of Africa, we have a government of 112 Ministers and deputies, who are overpaid tap dancers of appointees goofing on a daily basis more than blind horses in an empty band! I have never heard you criticise the family and friends elephant size government of Nana Addo, because he's your kinsman? Your hypocrisy smacks off tribalism. You and your so called co-wisemen took Mahama to the cleaners over crimes that never existed, you insulted him based on figments of your own imaginations, and now the tables has turned you all have suddenly become passive spectators.
Indeed, time they say sweeps everything along and it can bring good as well as evil and I dare say at no point in time would this adage ever be appropriately used than now! Which president Mahama family members was in charge of even a CRIPPLED CHICKEN or a PARALYZED RABBIT position that you couldn't spare our ears with the noise of cronyism and nepotism in this country? You lack common sense!
The corruption you spared the Ponzi Nana Addo of is the weakest link of the already weak chain of his government. Nana Addo is extremely corrupt, he's the chief priest of corruption, supervising corruption morning, afternoon and evenings in his government. Hope you still remember the fraudulent Ken $2.25billion bond, which issuing was shrouded in secrecy and defied industry best practice principles? Well, find below a few scandals of this Ponzi Nana Addo's government.
Dec. 20th, 2018. $12m worth of fertilizer for Planting for Food and Jobs went missing._
Dec. 17, 2018 Government allegedly blew $12m on embassy building in Oslo, Norway. This was championed by Foreign Minister Ayorkor Botchway._
Dec. 12, 2018 GHS18,000 was spent as entertainment allowance as well as another GHS18,000 spent on clothing, this was exposed by the Minority in Parliament._
Dec. 3, 2018 Government sole-sourced a $12.5m contract for blood distribution by drones to a US-based firm through sole-sourcing for the design, installation and operation of an unmanned aerial vehicles. The firm is Messrs. Zipline International Inc. As to whether Ghana needs drones is another topic for some other time but just consider the sole-sourcing aspect and the cost inflation component._
Nov. 21, 2018 Minority resisted an increase in presidential staffers from 998 to 1,614, they deserved to be commended, Ghanaians are yet to hear you praise their fighting spirit that saved as millions of Cedis which would have been spent on the additional staff.
Nov. 20, 2018 GH¢297,585 missing at KKMA. A total sum of GH¢297,585.36 went missing at the Kpone-Katamanso Municipal Assembly (KKMA). The Audit Service has recommended that three top officials of the Assembly cough out the money.
Nov. 14, 2018 Our Tourism Ministry spent $14m on capacity building and branding. As to what capacity they built and what products they branded Ghanaians don't know, as a special prosecutor you should find out.
Nov. 1, 2018 2-bedroom residence renovated with Ghc1m. The Director General of the Ghana Maritime Authority, Kwame Owusu, renovated his 2-bedroom official Cantonments residence at the cost of GHc 1 million.
_Oct. 24, 2018 Ghana Maritime Authority boss blew thousands of Cedis in 1 night on food bought from his own hotel. Mr. Kwame Owusu blew GHs135,125 (the old Ghana cedis equivalent of ₵1,351,250,000) one night on food and GHs10,652 on another occasion on food.
Oct. 24, 2018 GHS1.5m rot was uncovered at EPA. An investigation by Corruption Watch uncovered that the Environmental Protection Agency (EPA) sunk, at least, GHS1.5 million into questionable contracts.
Oct. 10, 2018 PMMC board adjusts allowances upwards by over 700 percent. There has been an upward adjustments in allowances for the chairman and the board members of the Precious Minerals Marketing Company (PMMC) Limited. In one instance, the increase was over 700 percent.
Sept. 18, 2018 Asuogyaman DCE bought GHC1,850 printer for GHC16,000 The Asuogyaman district assembly in the Eastern region got hit with a massive price inflation scandal that angered residents of the district.
Sept. 14, 2018. Over 600,000 litres of BOST's contaminated fuel disappeared. The Bulk Oil Storage and Transportation (BOST) was in the news again, this time over the disappearance of about 600,000 litres of its contaminated fuel.
Sept. 5, 2018 The Sawla DCE, Mr. Lawal Tamimu was exposed by his constituency party executives for awarding contracts to himself.
Aug. 28, 2018 GNPC bought $7.5m property from its CEO's former company. This was revealed by Joy fm.
July 17, 2018 NHIA blew GHS62k on government communicators. This was captured in a leaked memo signed by the Deputy in charge of marketing authorizing the approval of payments.
July 11, 2018 Ministry of Finance squandered GHC697m in 2017. The public accounts of Ministries, Departments and Agencies (MDAs) for the financial year ended December 31, 2017 was revealed this.
July 5, 2018 Freddie Blay bought 275 buses for NPP. National Chairman of the ruling New Patriotic Party (NPP), Freddie Blay honoured his promise to purchase 275 buses for each constituency in the country. He's currently the board chairman of GNPC.
June 12, 2018 the Palaver reported that Sammi Awuku's Wife grabbed a lucrative feeding contract packaged by the Executive Secretary of the Ghana Free Zones Authority, Michael Okyere Baafi, for a company owned by Mary Awuku, wife NPP's National Organiser.
June 7, 2018 GEPA Saga: Gifty Klenam, former Executive Director blew GHS93k on clothing allowances; $132k for rent.
May 29, 2018 the Presidency, GRA, and national security caused GHC1.88bn petroleum revenue loss to the state. The government lost GHC1.88bn in petroleum revenue leakages through nefarious actors within the Ghana Revenue Authority, the presidency and national security.
May 29, 2018 1.2bn dollars contract was awarded by NIA for the commencement of registration of the Ghana card. The amount involved is a total fraud.
May 22, 2018 The GFA former President; Mr. Kwesi Nyantakyi solicited $8million as bribe for Nana Addo and Bawumia.
May 17, 2018 IMANI-Ghana exposed a fraudulent
$172million contract signed between Ghana and KelniGVG, a total rip off.
May 7, 2018 CEO of GCMCL awarded fictitious contracts The Chief Executive Officer (CEO) of the Ghana Cylinder Manufacturing Company Limited (GCMCL) Frances Essiam caught awarding several contracts worth millions of Ghana cedis without recourse to laid down procedures.
March 28, 2018 Kennedy Agyapong's wife got GHC100.2m sole sourced streetlight contract.
Now I have identified the problem of you and your Wisemen, and this government must do Ghanaians just a favour. Your problem is that, you attempt all questions! I mean, excess consumption of alcohol is very bad, Government should ban Adonko bitters and common sense will be your portion.
In this era of insecurity, I'm hiding under the protection of Bei'nsua, the protection god of Binduri, so till I come your way again, I wish to seek cover before the dishonorable MP's miscreants come attacking me.
Bye!