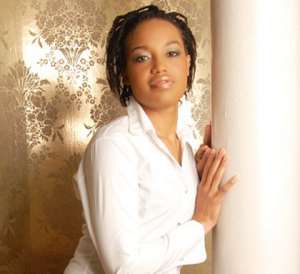 Tiki Black
Sometimes an artist emerges with a sound so different that it's hard to figure out where it came from. Tiki Black is such an enigma, her unique voice, and expressive keyboard style has led some to compare her to the poetic, soulful sound of Nina Simone or the narrative lyricism of Leonard Cohen.
When you delve a little deeper into her background you can realize this was never going to be someone who fitted easily into genre labels. When on stage the energy and emotions in her music bring an unforgettable experience to her audience. Like all aspiring musicians, Tiki jumped every hurdle she encountered. Today she shares her experience with her fans and lovers of music worldwide.
Born in Paris to Cameroonian parents, family hardship required her to be self-reliant from an early age.
2. Constantly moving around and shifting between both countries, music provided a precious haven of consistency in her life.
3. Tiki treasured the resonance she found in Cameroonian artists such as Manu Dibango and Eboa Lotin, and opened herself to the melancholic beauty of French Chanson, an influence also on the likes of Scott Walker, Terry Hall, and Elvis Costello. Furthermore, when at the age of 14 she discovered there was a piano in her new school in Paris, she immersed herself in a musical instruction book donated by a friend and discovered the work of Chopin.
4. While the upheaval of regularly moving around proved unsettling, it also led her to embrace and explore music as a world beyond borders or boundaries.
5. During a period of her childhood spent in Africa in the port of Douala, she fondly recalls hearing music from far-flung places like Latin and North America and going to watch Bollywood or Chinese films in local cinemas.
6. Later she would reverently translate and study the lyrics of artists as diverse as Caetano Veloso, Bob Marley, Herbert Grönemeyer and John Lennon. As Tiki reflects, 'If my music starts from personal experiences, it draws more diverse lessons by looking across time and place at similar situations and emotions.'
7. * Swollen – Finalist in the John Lennon Songwriting Contest Session I (Sep 30, 2009)
* Out Of The Black – Winner Best Album FOLK/ SINGER-SONGWRITER – The Akademia Music Awards (Nov 2013)
* Out Of The Black album – Nominated, Fatea 2013 Best debut album – Fatea Awards 2013
Tiki Black - Open Your Eyes - Official Music Video
Tiki Black presently lives in Manchester, United Kingdom. For ample information over her musical career, performings etc, she is reachable at her official website. http://tikiblack.com/bio/