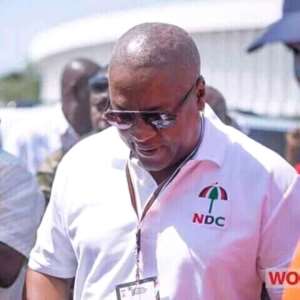 Former President Mahama
Hardly will you hear any of his appointees speak ill of him. Hardly does he speak ill of others, not even his worst enemies. Despite being challenged by many, half of them being his former appointees, Mahama has never shown any open hostility towards any of the flagbearer hopefuls or their supporters. On record, he has never expressed disappointment about being challenged by persons whose 'hands were once in his mouth'. Many have been wondering what Mahama's heart is made of, Gold, silver or perhaps diamond or he has the heart of an angel? Undoubtedly, his gentle demeanor, kind nature and courteous lifestyle have endeared him to even his worst detractors.
Like many others, I wasn't in support of his 2020 bid. However, my closeness with some flagbearer hopefuls thought me a big lesson about leadership and I understood why Mahama's 'boys and girls' are still loyal to him. Above all, a leader must have a big heart, must be tolerant of views and diversity and must encourage his followers to achieve their goals. Any leader who doesn't fit this description is not worth leading. I am of the view that loyalty at all levels is reciprocal. Anything reciprocal will fail the moment the other side fails to respond or reciprocate.
Once upon a time, I was one of the fiercest critics of Mahama's comeback. I wrote many articles to project my former boss, Prof. Joshua Alabi. In most of my articles, if not all of them, I was of the view that Mahama should retire from politics. Not surprising when I shook hands with him at the Trade Fair Centre a couple of weeks ago when he filed his nomination he said something that suggested he saw everything I wrote about him though in a manner very much characteristic of him. John Mahama is the best that we have in the NDC today and he represents our best foot for 2020. His demeanor won me as well many of his critics. As a matter of principle, I will kick against anyone whose temperament does not fit to lead the NDC or Ghana. Despite some not happy with my open support for Mahama, I deem it a great sacrifice. Sacrifice is when you offer something you cherish dearly. I will not be a spectator when I can still play. Ants bite may discomfort a lion for a while but not enough to kill him. We shall overcome.
When your critics begin to praise you, your detractors begin to endorse you and your enemies begin to admire you, it means you are doing something others are not doing. For a man whose achievements could only be compared to our first president, Dr Kwame Nkrumah, to retire as one term president would not only be an insult to Ghana's political history, it will also be a slap on our faces.
Experience they say is the best teacher. Mahama is the teacher here. I pray he is guided by his past. I sincerely believe in his speech when he launched his campaign at the Trade Fair Centre. He pledged to empower the youth and develop the party. I also observed the change in his rhetorics. Kudos to the speech writers. The recent endorsements by two of his contenders, Elikplim Agbemava and Stephen Atubiga, further affirm his candidature as the undisputed flagbearer of the NDC. Mahama has carved his name in the hearts of the people. I am very confident that majority of Ghanaians will grant him a second term in 2020 in sha Allah.
Next time he wins power, Mahama should remember us. For some of us, this 2020 election means a lot hence the decision not to court unnecessary disaffection for the party. My apologies to those I might have hurt as a result of my support for other candidates in the past. When a lion is in a contest, it is obvious the prey belongs to him. With Mahama we shall overcome the oppressive Akufo Addo government.