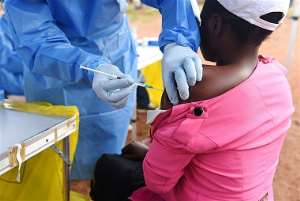 Using Africans as Guinea pigs in testing drugs they aren't sure will work or not. That's what they say
The Ebola epidemic occurred in the Democratic Republic of the Congo (DRC) has already affected 538 victims and claimed 315 deaths. Surprisingly, there are many vaccinated health officials among them that succumbed to the disease but unannounced or unpublished. Vaccinated with an experimental Ebola vaccine. Why?
These data suggest contact tracing and vaccination have not prevented rapid transmission. Ebola is spreading uncontrollably and healthcare workers are contracting Ebola by the dozens.
Although vaccinated healthcare workers have been especially hard hit by the current outbreak of Ebola in the northeastern part of the DRC, to date, 60 confirmed cases of Ebola have been in people caring for the ill, says Peter Salama, an epidemiologist based in Geneva, Switzerland, who heads the response to the outbreak for the World Health Organization (WHO).
A recent preliminary, the WHO report summarizes the impact of the Ebola epidemic on the health workforce of Guinea, Liberia and Sierra Leone. It investigates the determinants of infection and describes safe practices put in place to protect health workers during the epidemic.
The report about healthcare workers who contracted Ebola covers the period from 1 January 2014 to 31 March 2015. At present 815 are confirmed, yet they were vaccinated with an experimental Ebola vaccine.
The Ebola epidemic has taken a heavy toll on the already scarce health workforce. Among the health workers who contracted the disease two-third has died.
Preliminary analysis shows that, depending on their occupation in the health service, those between 21 and 32 are more likely to be infected with Ebola than people in the general adult population.
https://www.who.int/csr/resources/publications/ebola/health-worker-infections/en/
An experimental vaccine, forbidden in western countries, that has performed well in other studies now is being used for health care workers and others who may have come in contact with confirmed cases.
Salama says more than 500 people have received the vaccine so far. Despite these vaccines, healthcare workers succumbed by the dozens. But, over 10% of all vaccinated healthcare workers contracted Ebola.
No one can say for sure that the vaccine tested during the waning days of the West African epidemic, actually protected against infection. But DRC Minister of Health Oly Ilunga Kalenga calls the vaccination program a "game changer," as it clearly boosted morale and encouraged other public health efforts. But she mentioned not a single word about all trial and error studies so far.
Nora Love, field director for the International Rescue Committee's operations in the region, offers a more nuanced view. From mid-September through the end of last week, the nonprofit humanitarian group has trained over 730 health care workers whose staff serve in Beni and Butembo, two affected regions.
She explained those who are doing the safe burials have been the most exposed and vulnerable because people are very emotional after they lost a loved one. The protocols for safe burial are different than the traditional burials cause some distress within the community.
However, safe burial personnel meets violent reactions at hospitals and where the deaths occur. Patients have been forcefully removed from the hospital not only by their loved ones but also rebels are attacking these Ebola healthcare centers with one purpose only.
Violence is not the only challenge, as Beni has recently experienced a significant increase in the number of malaria cases, according to a recent report from DRC Minister of Health Oly Ilunga Kalenga.
Modified malaria drug has proven effective at inhibiting Ebola
According to scientists derivatives from a commonly used anti-malarial can prevent Ebola virus from entering cells. Researchers have discovered that certain derivatives of amodiaquine, a medication typically used to treat malaria, could provide a new therapeutic approach to treating patients infected with Ebola virus disease by blocking the viruses from entering cells.
Immediately thereafter, Minister of Health Oly Ilunga Kalenga gives her approval for another trial and error study expressing panic all over the place and the pharmaceutical industry is aware of that. (See literature below).
Meanwhile, Russia, China, America, Japan, and other countries, with one aim, to make a profit, are struggling over each other to test there experimental vaccines and drugs in forbidden trial and error studies, just to sell and make money out of the misery victims which are always black people.
The specific character of Ebola spreading and high lethality of the virus allows the killing of people selectively, targeting villages, cities or countries.
Biological war might be very fast and successful if a state for a case of unforeseen circumstance already has a developed and tested vaccine. At the end, not only adults are affected but an enormous amount of babies as well. Because of the side effects of these tested drugs?
The US Department of Defense (DoD) is funding Ebola trials on humans, trials which started just weeks before the Ebola outbreak in Guinea Bissau, Liberia and Sierra Leone. The reports continue that the DoD gave a contract worth $140 million to Tekmira, a Canadian pharmaceutical company to conduct Ebola research.
This research work involved injecting and infusing healthy humans with the deadly Ebola virus, which started in January 2014 shortly before an Ebola epidemic was declared in West Africa in March.
Article reference links
http://www.who.int/news-room/feature-stories/detail/ebola-vaccine-provides-protection-and-hope-for-high-risk-communities-in-the-democratic-republic-of-the-congo
https://clinicaltrials.gov/ct2/show/NCT03576690
https://clinicaltrials.gov/ct2/show/NCT03478891
https://www.gilead.com/work-in-ebola
https://www.npr.org/tags/339865221/zmapp
https://www.upi.com/Health_News/2018/11/28/NIH-tests-three-Ebola-drugs-in-
clinical-trial-in-Congo/5081543411254/
https://www.nih.gov/news-events/news-releases/clinical-trial-investigational-ebola-treatments-begins-democratic-republic-congo
https://edition.cnn.com/2018/11/26/health/ebola-treatment-trial-bn-intl/index.html
https://www.nih.gov/news-events/news-releases/clinical-trial-investigational-ebola-treatments-begins-democratic-republic-congo
https://www.aljazeera.com/news/2018/11/drc-ebola-clinical-trials-warns-newborns-infected-181124132752708.html
https://www.nbcnews.com/storyline/ebola-virus-outbreak/uganda-vaccinating-fear-ebola-virus-spread-n933491