Free SHS Promoting Social Inclusion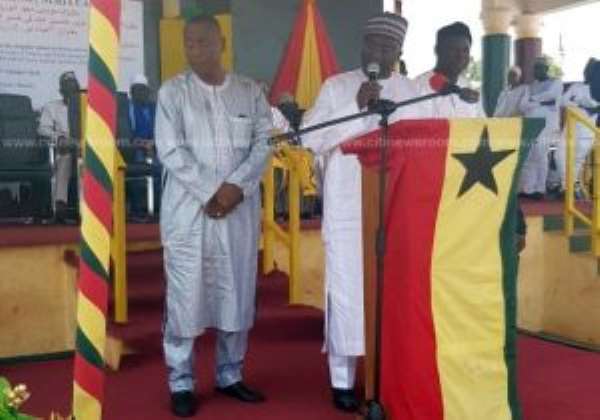 Ghana's Vice President, Alhaji, Dr. Mahamudu Bawumia, says the implementation of government's flagship programme, the free Senior High School, is to promote social inclusion.
"One of the most inclusive policies that we have seen in recent years is in the area of the provision of free Senior High School education in Ghana and this covers all of Ghana."
According to him, most needy students were denied their right to secondary education due to poverty, hence the move to liberate them.
"It is a travesty that if people want to go to senior high school they cannot get the money to be able to get that education. And so this is why Nana Akufo Addo said no, let us include everybody. Let's make sure everybody can get free senior high education."
"Many people were not able to afford it and this is why we said for the long-term development of this country, we have to bring senior high school education and we thank Allah for making it possible."
Alhaji Dr. Mahamudu Bawumia was speaking at the Golden Jubilee of the Nuriya English and Arabic Institute held at the Tamale Jubilee Park.
The occasion was also used to officially launch the Nuriya Senior High School which is ready for its first intake in September 2019.
He reechoed Islam's nonnegotiable position on the acquisition of knowledge and impressed upon the Ulamah to maintain the status quo.
"We know the prophet Mohammed told us that even if we have to get to China to look for knowledge let's get to China and find that knowledge. Islam values knowledge and instructs us to seek knowledge even if we have to get to China."
He emphasized the need for peaceful coexistence saying, "Islam is a religion of peace and the government of Nana Addo Dankwa Akufo Addo wants us to live in peace in Ghana. We pray for peace but we also have to work for peace."
"And the government of Nana Akufo Addo says that one of the channels that we are going to have peace in Ghana is to make sure everybody is included in the process of our development."
"So we want to make sure that we are a government of inclusion, and not a government of exclusion. Whether you are a Muslim, Christian, regardless of your tribe, whether you are from the north or from the south, the policies of government must promote the inclusion of everybody because inclusion brings peace."
He said government had fulfilled its promise to recruit Arabic Instructors and also added Arabic studies to the curriculum.
He mentioned the implementation of the Planting for Food and Jobs, Nation Builder's Corps, one village one dam among other pro-poor programmes as an indication that government is fulfilling its campaign promises.
Sheikh Ibrahim Basha (Bayan) established the Nuriya English and Arabic Institute in Tamale to promote circular education.
The Institute has since trained scholars whose contribution to nation building is immeasurable.