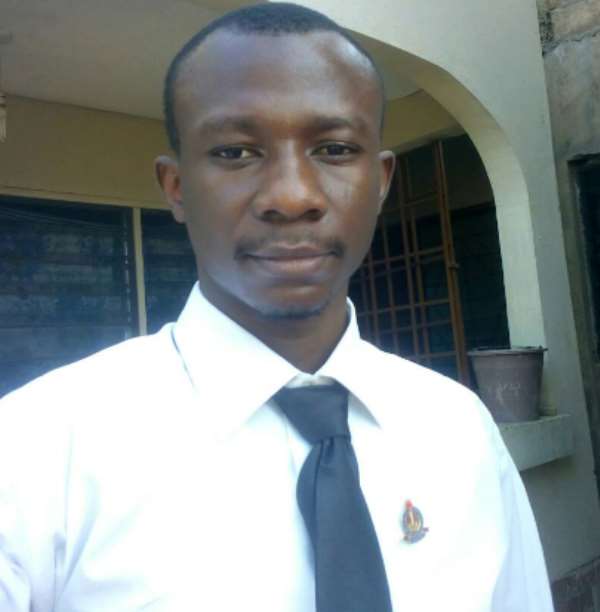 The Author
I am writing this article as a Zongo 'boy' vis-à-vis the warped, untenable and execrable claims you made as the NPP National Nasara Coordinator.
I am not responding to those nauseating comments because of the coefficient of my political inclination.
Essentially speaking, I am writing as an insulted Zongo Boy.
The point ought to be made that, generally, I wouldn't be bothered by your tacit and circuitous insults, but narrowly I am bothered.
Moving forward, simple, but factual deductions could be made from your empirically defective and factually deficient claims;
1. That Zongo people are "armed robbers" because of lack of education
2. That if you have Secondary school education, you cannot be an "armed robber"
3. That if (by some reasons) you don't have formal education, then automatically poverty will stare you in the face.
For the purpose of communication, I limit myself to these three deductions/inferences from what you said inter alia.
On the first deduction, we the Zongo people thank you unreservedly for that unpardonable insult. After lying to the Zongo communities for votes, all you could do is to insult us of "armed robbery". 2020 you should come back to the Zongo communities for votes again. You will be met with the Assana Memunatus, the Kwabena Dagatis, the Yaw Alis, Kwabena Fuseinis, the Amina Salifus and so on.
On the second deduction, it appears Aziz, you are very naive. What empirical analysis did you do to arrive at such a class one finding?
You should produce your sample population, data and methology which empowered you with such audacity to make that conclusion.
If you have a secondary education free because your parents are poor, what is the probability that they can sponsor your tertiary education?
If the orientation that poor parents cannot sponsor their ward's SHS education, hence the free SHS holds in the assentive, and my conundrum, too, holds in the dissentive, then it logically follows that after free SHS those students will get stuck at home. What then becomes of their fate?
And by your convoluted averment, people with free SHS education cannot be armed robbers. What a convolvulus assertion!
If you were serious, you would have listed the notorious armed robbers we have in this country, their area of residence/abode and educational background to prove your point.
On the third deduction, it leaves you very ignorant because you don't know what is happening around the world.
Most of the wealthy people in the world are not people with high flying university degrees.
Education doesn't quarantee wealth. Simply put, it is not a CONDITION albeit it is a NECESSITY.
Aziz Futa, the Kwame Despites, the Bill Gates, the Dangotes, the Ibrahim Mahamas et al are not people with high flying professorial degrees, but they have succeeded in paying those with high flying university degrees.
Why? Isn't it in the NPP that we have a HAIRDRESSER as a Parliamentarian? Did she get there because of her educational background?
The Late Otanka Obetsebi Lamptey was your National Chairman. Did he have any certificate?
As a National Nasara coordinator, one would have expected that you battle for justice for the 7 innocent Zongo boys who were shot and killed by heart, Sadique was killed like an animal in Asawase and you have done nothing about it, Adams Mahama was bathed with acid to death and you have said nothing et al.
Yet you have the effrontery and the testicular fortitude to insinuate or if you, infer that Zongo people are armed robbers and rascals.
Aziz, you took another swipe on the Hajj pilgrimage in Ghana and sought to create the impression that your government has done it all in that arena.
I am telling you and your underlings that, when it comes to Hajj matters, you shouldn't speak all. It is the NDC government that made Hajj attractive in this country. Nobody can contest this fact, not HE Nana Addo and not Dr Bawumia himself.
The number of people the NDC government supported to embark upon that Holy journey is itself a record.
What you and the NPP are engaging in with the Hajj issues in this country is nothing short of populism.
You parade all the Hajj pilgrims whom you supported publicly for everybody to know and you think that is not a populist approach?
Some of them feel embarassed because of how you expose them to the public.
Aziz, now listen to this, the problem in our Zongos go beyond "poverty".
It is sometimes the apathy on the part of some children to go to school.
I have been organizing free extra classes for students in my area (Begoro Zongo) with advert/announcement. However, it is sad to hear that I have never registered more than ten (10) students in attendance. For your information, I do this on vacations when all students are at home. So you see? It is not the MEANS, but the WILLINGNESS.
If the willingness is there, some parents are ready to sell their last cloth to help their wards. My mother sold some of her properties to sponsor my Teacher Training College education. What you need to be doing is to sensitize or if you like, orient the Zongo people on the need, the importance, the benefit and the essence of education whether free or charged. In any event, go to the various SHSs in the country and see how the students are suffering because of inadequacy of furniture. Students are actually perching on mono desks in classroom.
Instead of you to address such challenges, you sit there and embark upon the path of invectives and populism which serves no meanigful purpose, but to ostensibly insult and subject Zongo people to public obloquy.
We thank you once again, Aziz Futa!
I leave it here.
© Osumanu Abubakar
© Fanteakwa North Zongo Caucus Coordinator
© 0242782515