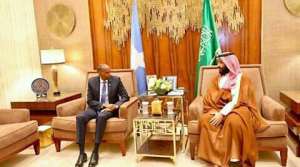 Image Left: SOMALIA PM HASAN ALI KHEYRE RIGHT:SAUDI'S YOUNG PRINCE MOHAMED SALMAN
The pm of somalia, his excellency Hassan Ali kheyre s currently serving his three days state visit in the kingdom of Saudi Arabia. He met with the young dictator prince Mohammed bin salman.
The meeting is all about Somalia's current situation and how the government of somalia made a certain significant signs of progress in the country and to solidify both nations diplomatic , social and economic relations as we quoted from the saudi Arabia's state owned press. Both nations diplomatic relations was alittile bit sour since last one year when GCC political and diplomatic hostility has emerged.
The isolation of Qatar by the other khaleeji powerhouses led by Saudi Arabia's kingdom was the hot spot of the khaleeji nations and that has really affected many African nations where most of the world and African nations sided with the Saudi Arabia and her khaleeji alliance's discions against their isolations of Qatar, But Somalia's current government led president mohamed abdullahi mohamed (farmaajo) has totally refused to make sides of the hostile khaleeji nations, vowing that it's non of Somalia's business since somalia is an independent nation and shouldn't be part of any foreign hostile plottical games.
This division became a real surprise to Saudi Arabia kingdom where it never imagined that kind of answer should come from somali,Though the Saudi Arabia kingdom vowed that they will pay a huge money that worths around $80 million to somalia in order the somalia authorities to accept and support it's dicisions against Qatari government , nevertheless the answer from somalia government remained the same still, which is "No" "No other foreign nation can dictate to our foreign plocies and our international diplomatic friendly relations" then from that moment both nations diplomatic relations was not good. But really this hard decision from somalia government towards khaleeji nations political emnity has created for somalia a full respect as a nation.
We can say that the Saudi Arabia kingdom wishes to change it's old system of politics against somalia and the kingdom wishes to start another respectfully chapter of diplomatic relations with somalia once again. This is what I can mention as the one vital victories that the current somalia authorities has scored so far according to it's former somalia government before this current one which is widely known as "nabad iyo nolol" by the majority of Somali citizens, meaning "the peace and life government".
Written by : jebril Domenico.M.A
Political analyst.