Communications Minister Ursula Installed As Queen In Akyem Asuom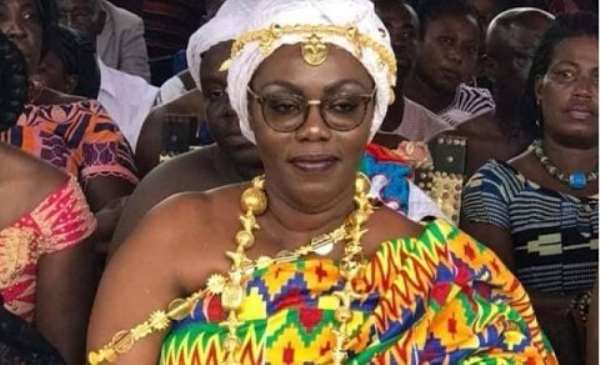 Ursula Owusu now bears the name "Obaapanyin Abena Bema Oforiwaa Gyankobea".
Minister of Communications Mrs. Ursula Owusu-Ekuful has been installed as queen with the title Nkosuohemaa (Development Queen) by the Traditional leaders and people of Akyem Asuom in the Eastern Region.
Her installment ceremony took place over the weekend on Saturday, the 29th of September 2018. The ceremony was done at the palace of Asuomhene Osabarima Ofosuhene Apenteng II. The communications Minister will now bear the name Obaapanyin Abena Bema Oforiwaa Gyankobea.
The honorary installation as well as title is normally bestowed on people who have shown commitment to the development of their area. It is therefore believed that she has been honored for her input towards the development of the community.
Akyem Oda, Mrs. Owusu-Ekuful's native home is a neighbor to Akyem Asuom.
Akyem Asuom chief, Osabarima Ofosuhene Apenteng II, expressed optimism stating that the installation of the minister as Development Queen will help spur progress in the area. According to him, the area is lacking in so many amenities and infrastructure.
In her inaugural speech as Nkosuohemaa, Obaapanyin Abena Bema Oforiwaa Gyankobaa assured that she is committed to ensuring that development is brought to the area. She additionally urged all natives of the area, both at home and abroad, to join forces to upgrade the community.
She further promised to oversee an initiative of Akyem Asuom's Qeenmother which is the construction of a vocational institute in the area. She also disclosed that she is poised to fix all deplorable roads in the area as well.
Eric Nana Yaw Kwafo
Journalist