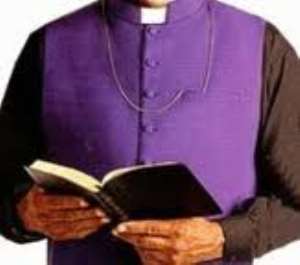 Head Pastor of the Raising Faith Apostolic Church at Sepe-Timpon in the Asokore Mampong municipality of the Ashanti region, Pastor Stephen Kusi Boateng, has called on the Christian Council of Ghana (CCG) and other Christian bodies, as matter of agency, to officially pass a proclamation that legalize polygamy to save the church.
The proclamation, based on the teachings from the bible, will reduce the number of unmarried women among Christians who are finding it hard to make ends meet, according Pastor Kusi Boateng, who supports 'more than one marriage' in Christianity.
Pastor Kusi Boateng, known among Christians as 'Osofo Taba', made the call during a radio panel discussion on a topic 'How did Polygamy become Sin'on Otec FM's morning show 'Nyansapo' on Friday, September 21, 2018, hosted Agya Owusu Ansah.
Other members of the panel included, Rev. Daniel Eshun of One Faith Gospel Church in Tema, Rev. Fr. Mary James Opoku Ware of the Roman Catholic Church in Kwadaso and Evangelist Peter Prempeh of 12 Faith Disciple Ministry at Abuakwa-Agogo.
Quoting from the bible to back his stands for polygamy, he cited Moses, Abraham, Jacob and David, whom were all symbolic icons of God, married more than one but they received the blessings and favors from God.
"There's no single quotation in the bible that forbids polygamy, even God even favors it. If Christian men are allowed to marry more than one, it will reduce fornication, adultery and prostitution among women in the churches. There are more women seeking marriage but for the fear of been excommunicated from the church, based on their belief on monogamy, they turned down proposals from married men.
In conclusion, he said "to save the church and the society, I would urge the Christian bodies like the Christian Council of Ghana, Catholic Bishop Conference and other Christian bodies to come together to pass a decree that permits marrying more than one. To this, I believe will increase their faith in God and worship him wholeheartedly."
Evangelist Peter Prempeh of 12 Faith Disciple Ministry in his submission against polygamy quoted 1 Timothy 3:12 and Tito 1:12 and said Christians who marry more than one do so in lusts, which the bible speaks against.
"Polygamy is a culture practiced by the ancient pagan people that has been indoctrinated into present day Christianity, and anybody who marries more than one goes against the words of God, according to the bible," he said.