Nene Mike Gizo Calls For National Dialogue On Pensions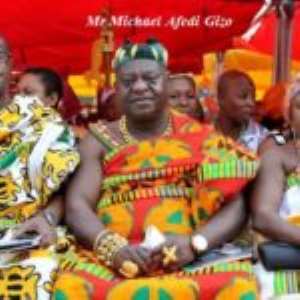 A former Tourism Minister under the Jerry John Rawlings regime, Mr Michael Afedi Gizo, has called for public dialogue on pension benefits of retirees and how senior citizens are neglected and ill-treated in the country.
The former Minister, who is now the Chief of Agomeda in the Eastern Region with a stool name, Nene Nagai Kassa VIII, said benefits given to retirees as pension are nothing good to write home about, hence, making retirement a scary status in the country.
The man, who has worked all his life in the public service, as a broadcaster with the Ghana Broadcasting Corporation (GBC), Minister of State, Member of Parliament for Shai-Osudoku Constituency, and Deputy Secretary for Information, all under Ex-President JJ Rawlings, told journalists: "If I tell you my pension money, you will crash your phone."
Though Nene didn't announce how much he is given as pension every month, however, he made it clear that life hadn't been easy for him and his colleagues retirees, saying, "I wish somebody gives me the salaries they give to people now."
Nene Nagai Kassa VIII expressed this sentiment when he chaired the Melcom Group Chairman Reception, held for senior citizens in Accra last Friday.
He argued that it an open secret that most people are scared to retire, and to escape early pension, one has to scheme to reduce his or her age.
"We all know it, but we have made politics the biggest game and neglected the welfare of the people. When we talk about people's welfare, we only look at people with political platform. I have been there before, so I know," he stressed.
Though he admitted that not much was done during his era to improve pension conditions, nevertheless, he suggested that national dialogue was needed to review the pension scheme, as well as address some of its challenges.
Nene Kassa VIII complained bitterly about how senior citizens are ignored and ill-treated by the younger generation, although their ideas, knowledge and experiences can still be put to good use.
According to him, former legislatures and ministers, retired doctors, engineers, lawyers and other professionals should not be relegated to the background, but rather given a role to play in various sectors of the economy.
He furthered urged society to shun politics when it comes to issues concerning the people's welfare, stating that life is not all about politics, but how long people will live, and the quality life they will enjoy.
The Melcom Group if Companies Communication Director, Godwin Avenorgbo, support the former minister's assertion that senior citizens are being neglected. However, he quickly added that the neglect is not necessarily by the government per se, but the youth.
To him, development is a process that needs the continuity of the older generation transferring their knowledge and expertise to the younger ones.