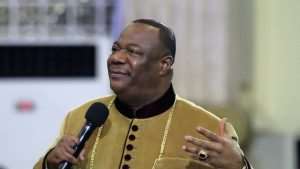 The General Overseer of the Action Chapel International (ACI), Archbishop Nicholas Duncan-Williams, has cautioned Christians against chastising the founder of the International Central Gospel Church (ICGC), Pastor Mensa Otabil, over his role in the collapse of defunct Capital Bank.
According to him, Christians must "shut their mouth" since they may not have an understanding of the issue at stake.
A report which emerged a year after Capital Bank was collapsed and taken over by GCB Bank, indicated that the then-Board Chair, Pastor Mensa Otabil may have been a party to the misuse of liquidity support given the bank by the Bank of Ghana (BoG).
The report cites an emergency board and Executive Committee meeting on October 13, 2015, which notes concern with the manner in which the GHc 610 million liquidity support to the struggling bank was being used.
Instead of using the money the central bank gave Capital Bank as liquidity support for the bank's business, the management with the approval of the Board Chair, diverted the money for other uses, leading to the eventual collapse of the Capital Bank in August 2017.
The monies were moved by a member of the Board, Ato Essien into companies believed to be owned by him and others on the money. Some of that money was reportedly presented as capital to secure a license for another collapsed bank, Sovereign Bank.
Some have since called for the prosecution of Mensa Otabil but Archbishop Duncan-Williams has said Christians must not join the 'world' to 'crucify' Pastor Otabil.
"I heard about the situation with Dr. Mensa Otabil [but ] I want to caution every Christian, shut your mouth…. The Bible says judge not, that you may not be judged. So shut your mouth. Stop talking about things you don't understand… Somebody asked me, what do you think, I said I don't think anything, I don't understand, I don't know the details," he said.
"Don't talk… Christians, you talk too much. I'm saying that to Christians. As for unbelievers and the heathens, they have the right to talk, their day will come, but for us, Christians, we are under God's constitution, we do not judge and we don't judge our own. Let the world talk and let the world judge, but you don't join the world to crucify your brother," he added.