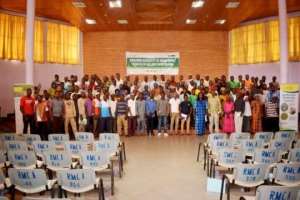 The African Fertilizer and Agribusiness Partnership (AFAP), under the Africa's Smallholder Inclusive Productivity and Market Access (SIPMA) project has organised a three-day training programme for agro-input dealers in the Northern Region.
The training, funded by the Alliance for a Green Revolution for Africa (AGRA), seeks to improve food security and livelihoods of 143,000 smallholder maize and soybean farmers in Northern and Brong Ahafo Regions.
A statement signed by Mr Ngendo Machua, AGRA Digital and Content Development Specialists and copied to the Ghana News Agency in Accra on Thursday said, the project would support the development of the maize and soybean value chains.
It would also assist in input mobilization, extension, and access to finance, crop protection, aggregation and value addition in the Brong Ahafo and Northern regions.
The statement said the training has built the capacity of agro-input dealers in the Northern Region to enable them to provide advisory services to smallholder farmers to improve soybean and maize productivity in the designated project area.
It said the agro-input dealers were schooled on topics including business management principles, to help agro-input dealers increase their profit to sustain their business and farm care to enable them to practice good agronomy of the targeted crops
It said other subjects were the management of fall army worm, aflatoxins in maize, safe use and handling of agro-chemicals, and correct application of fertilizers.
The statement appealed to agro-input dealers in the country to avoid the sale of fake agro-inputs.