Deputy Interior Minister Eulogises Bluecrest College For "Say No To Plastic Campaign"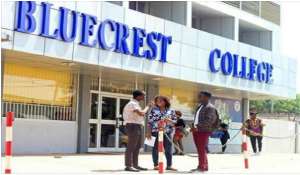 Deputy Interior Minister and Member of Parliament for Ayawaso Central, Henry Quatey has lauded Bluecrest University College, a leading IT institution in Ghana for their "Say No To Plastic" campaign of ensuring a plastic free Ghana.
Bluecrest, as part of its Cooperate-Social Responsibility (CSR) on Tuesday held a sensitization programme at the school's auditorium to commemorate the celebration of the 2018 Environment Day with a global aim of "Beating Plastics".
Ahead of the celebration, the Mass Communication and Journalism Department of the school engaged the public at the malls and other centers, to educate them on seeking their views on how Ghana could manage plastic waste in the country.
The legislator, who was a Key Note Speaker at the event recognized efforts by the Mass Communication and Journalism Department of Bluecrest, of instilling good sanitation practices among students and the Ghanaian public.
Speaking in an interview, the deputy minister said "I want to applaud the staff and management of Bluecrest College for taking such a bold step and of course a median program, likely for me in my constituency to lead this crusade of educating the people of the need to ensure that we live in a clean environment " an elated Mr. Quatey said.
The minister also stated that, there are laws backing state agencies for the full implementation of the environmental laws.
He therefore charged Ghanaians to be good citizens and support the state agencies in the implementation of those laws.
On his part, Dr. Kapil Gupta, Chairman of Bluecrest College underscored the health implications of dumping plastic waste in the open, urging government to take decisive measures to overcome the menace.
He also stressed the need for government to tap into the economic viability of recycling plastic waste to generate revenue.