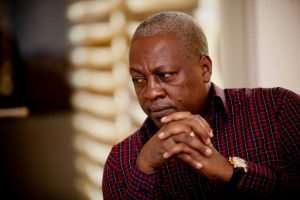 The National Democratic Congress (NDC) has denied claims that former president John Mahama took an $8 million bribe from some investors.
Reports in a section of the media this week said the embattled president of the Ghana Football Association (GFA), Kwesi Nyantakyi in his statement to the CID over allegations of corruption indicated that former president John Mahama received $8 million bribe some investors he [Kwesi Nyantakyi] had engaged with.
The NDC in a station reacting to the claims said it was a deliberate attempt to share the damage done to the reputation of President Akufo-Addo as a result of the yet-to-be-released investigative exposé by a journalist, Anas Aremeyaw Anas which reveals corruption in Ghana Football.

National Organiser of the NDC, Kofi Adams
Excerpts of the film reportedly show Kwesi Nyantakyi boasting about his relationship with President Akufo-Addo and other government officials and his ability to bribe them with various sums of money to get them to award contracts to a supposed foreign investor.
President Akufo-Addo after watching the video filed a complaint with the Criminal Investigations Department (CID) of the Ghana Police Service to investigate the matter.
Kwesi Nyantakyi's phones and laptop were later seized by the CID.
Later reports claimed that Nyantakyi, revealed during interrogation at the CID that the investors he had engaged with had paid $8 million to John Mahama, but according to Kofi Adams, who signed the NDC's statement, the claim is a "lie" and a desperate attempt to exonerate President Akufo-Addo from this and other acts of corruption.
Read the statement below:
RE: ANAS VIDEO: MAHAMA'S NAME POPS UP IN $8 MILLION NYANTAKYI SCANDAL
I have noted, as the Campaign Coordinator of the National Democratic Congress (NDC) Campaign in 2016, a desperately concocted story carried by Accra radio station, JoyFM, that an unknown person gave an amount of $8 million to the party for the elections.
This is subterfuge and a deliberately woven lie, between JoyFM, Kwesi Nyantakyi and the Police CID, for the sole purpose of sharing the profound damage done to the President and some of his lieutenants by claims made in the Anas video by Kwesi Nyantakyi.
This lie and many desperate acts over the last few days cannot and will not exonerate President Akufo-Addo from the various acts of wanton corruption and the revelation that Nyantakyi is captured on the said tape making, including asking for various sums of money from people on his behalf.
Neither the NDC nor our candidate, John Dramani Mahama, received any amount from an unknown person.
Kofi Adams
National Organiser, NDC
Accra
Tuesday June 05, 2018