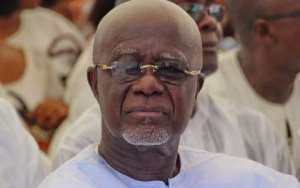 Hackman Owusu Agyeman, Board Chairman of COCOBOD
Workers of Ghana Cocoa Board (COCOBOD) are demanding the removal of Board Chairman Hackman Owusu-Agyeman, accusing him of usurping the authority of the Chief Executive Officer (CEO) Joseph Boahen Aidoo.
According to the workers, Mr Owusu-Agyeman does not have their welfare at heart.
The workers, during Tuesday's May Day parade in Kumasi in the Ashanti Region, displayed placards with inscriptions such as "Remove Board Chair", "Mr President, who is in charge of Cocobod; CEO or Bard Chairman?" among others.
The Chairman of COCOBOD workers union at Kaase Inland Port, Richard Akomea, in an interview with Class News on the sidelines of the May Day celebrations, said apart from stepping beyond his authority, Mr Owusu-Agyeman does not listen to the concerns of workers.
He said: "We're demanding the removal of Hackman Owusu-Agyeman as Board Chairman. Any good thing that is coming to staff, he says no. We want to tell him that we deserve whatever we're taking; therefore, our due must be given to us. We want to tell the government we also voted to bring them to power, so, if he [Nana Akufo-Addo] refuses to listen to us, we'll also tell him our story."
The staff also called for an upward adjustment of their salaries as they say they have not received any hike in salaries for the past three years.
"We want the president who is the first gentleman of this land to be aware of what is happening in COCOBOD now. Again, we also want the president to know that for the past three years, our salaries have not been increased and that one is also affecting us because the economy as it stands now, there is nowhere in this world that workers will work for three consecutive years without increment, so, we're calling on the president to as a matter of urgency call for negotiation so that our salaries will be increased."