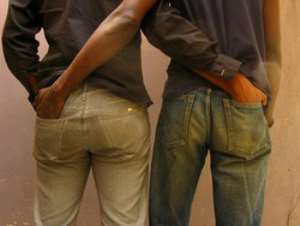 General Superintendent of the Assemblies of God church (Ghana), Professor Paul Frimpong Manso, has described as satanic and demonic the call by U.K Prime Minister, Theresa May, on Africa's leaders to accommodate homosexuality.
According to the Assemblies of God General Superintendent, being a homosexual is immoral and also against Ghana's culture. He said it would therefore will be impossible and unfortunate for Ghana to legalize the menace.
There have been calls by some world leaders urging Ghana and other Africa countries to reform their laws to the interest of gays and lesbians with the recent one from Theresa May, during the ongoing Commonwealth heads of Government meeting in London.
Speaking in an interview with Otec FM's Evening NEWS, Professor Frimpong Manso, stated that all religious leaders in the country have kicked against the move therefore it would not be prudent for political leaders to prepare the grounds for making homosexuality lawful.
He further said even though he believes leaders of the country will not impose such act on the people, he vowed to share his last drop of blood to oppose to it.
"How can foreigners force us to accommodate homosexuality? We are not like them and will never practice such satanic act" he emphasized.
Prof Paul Frimpong Manson however blamed Ghana and Africa at large for failing to be independent, making way for bombardment from Europe and America.
"Can Theresa May tell China or Dubai to accommodate such act" he questioned sadly.
He however charged Ghanaians to start selfless lifestyles and adjust to the " Ghana beyond aid" agenda in order to prevent such insults from foreign leaders.