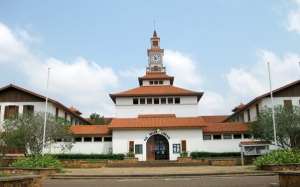 Authorities of the University of Ghana say they will not hesitate to take disciplinary actions against any student found culpable in the recent clashes on campus.
Director of Public Affairs of the University, Mrs. Stella Amoa has cautioned students to seize fire or face the music.
"…so I will urge any student who has any intention of continuing with these clashes to be very careful about any act of violation because they will be dealt with accordingly".
Students of Katanga Hall at the Kwame Nkrumah University of Science and Technology and Commonwealth Hall students of UG clashed on UG campus Monday .
The KNUST students were on UG campus to participate in an inter-university debate competition but before the tournament began, an age-old rivalry between the two halls sparked violence.
The clashes left one person injured and 10 picked up by the police but later discharged.
The recent clashes are believed to be fueled by a viral video of a resident of Commonwealth hall who was being bullied by some 'Katangees'.
The spokesperson for Greater Accra Police Command, ASP Afia Tenge, confirmed attacks on Mensah Sarbah Hall at dawn on Tuesday to Joy News.
"Around 1: 00 am we had a call that some students had thronged Mensah Sarbah hall and they threw stones to break the shatters there…," she said.
She adds that investigations are still going on and the university is collaborating with the police.